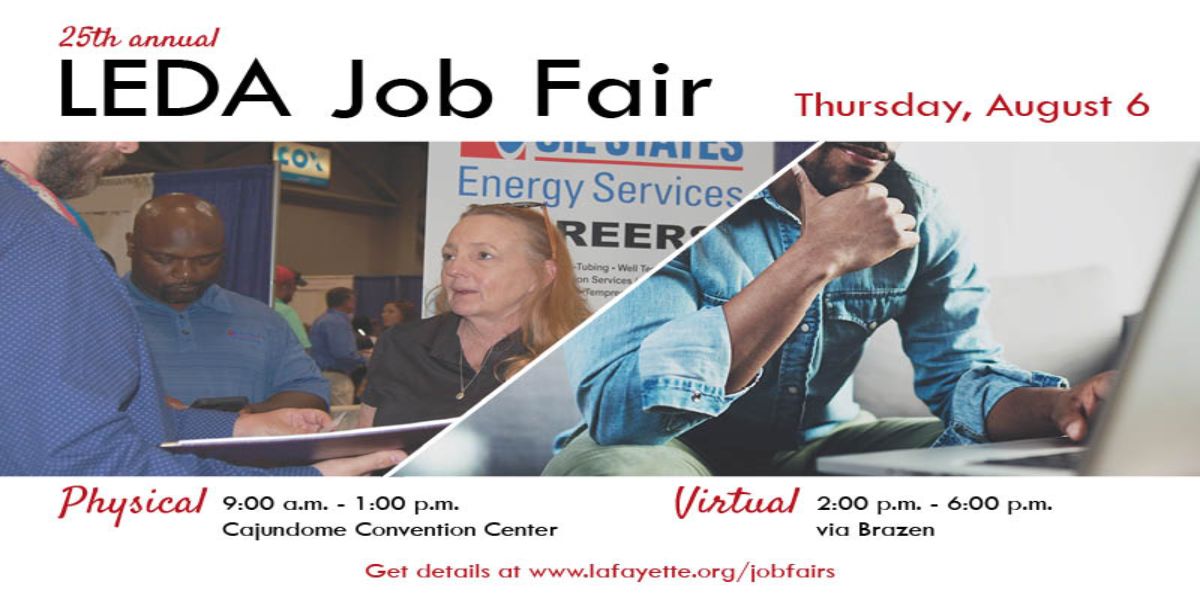 25th Annual LEDA Job Fair
25th Annual LEDA Job Fair
Event Details
Don't miss the largest recruiting event in the region when the 25th Annual LEDA Job Fair returns to the CAJUNDOME Convention Center on August 6, 2020!
The largest recruitment event in Acadiana!
Thursday, August 6th
Physical Event - 9:00 a.m. to 1:00 p.m.
Cajundome Convention Center, Lafayette, LA

Virtual Event - 2:00 p.m. to 6:00 p.m.
Chat-Based Virtual Platform via Brazen
Our team is coordinating closely with the Cajundome Convention Center to modify the layout of the event to align with social distancing guidelines including larger booths and larger one-way aisles. Personal protective equipment will be made available to recruiters and job seekers.

Receive the early registration discount through June 30th!

Physical booth package includes expanded pipe and drape booth, skirted table and two chairs, electricity, wifi, and lunch for two recruiters. The LEDA Job Fair also features a robust marketing campaign to job seekers.

Virtual event participants will have access to a virtual booth allowing employers to include images, videos, and job openings while recruiters can engage with job seekers via the chat based platform.

This event is FREE and open to the public!
Pre-Registration is Encouraged.
The 2020 LEDA Job Fair will be our best yet with more recruiters and hiring managers on hand to help you find the career you're searching for. Information on participating employers will updated regularly so check the LEDA website often for the latest information.
For more information about available booth space contact Ryan LaGrange at (337) 593-1400 or [email protected].