LOUISIANA RAGIN' CAJUNS FOOTBALL VS. APPALACHIAN STATE
Event Details
LOUISIANA RAGIN' CAJUN FOOTBALL VS. APPALACHIAN STATE
Location: Cajun Field
No outside food or drinks permitted.
TICKETS
Renew your season tickets now!
2020 HOME FOOTBALL COVID-19 GUIDELINES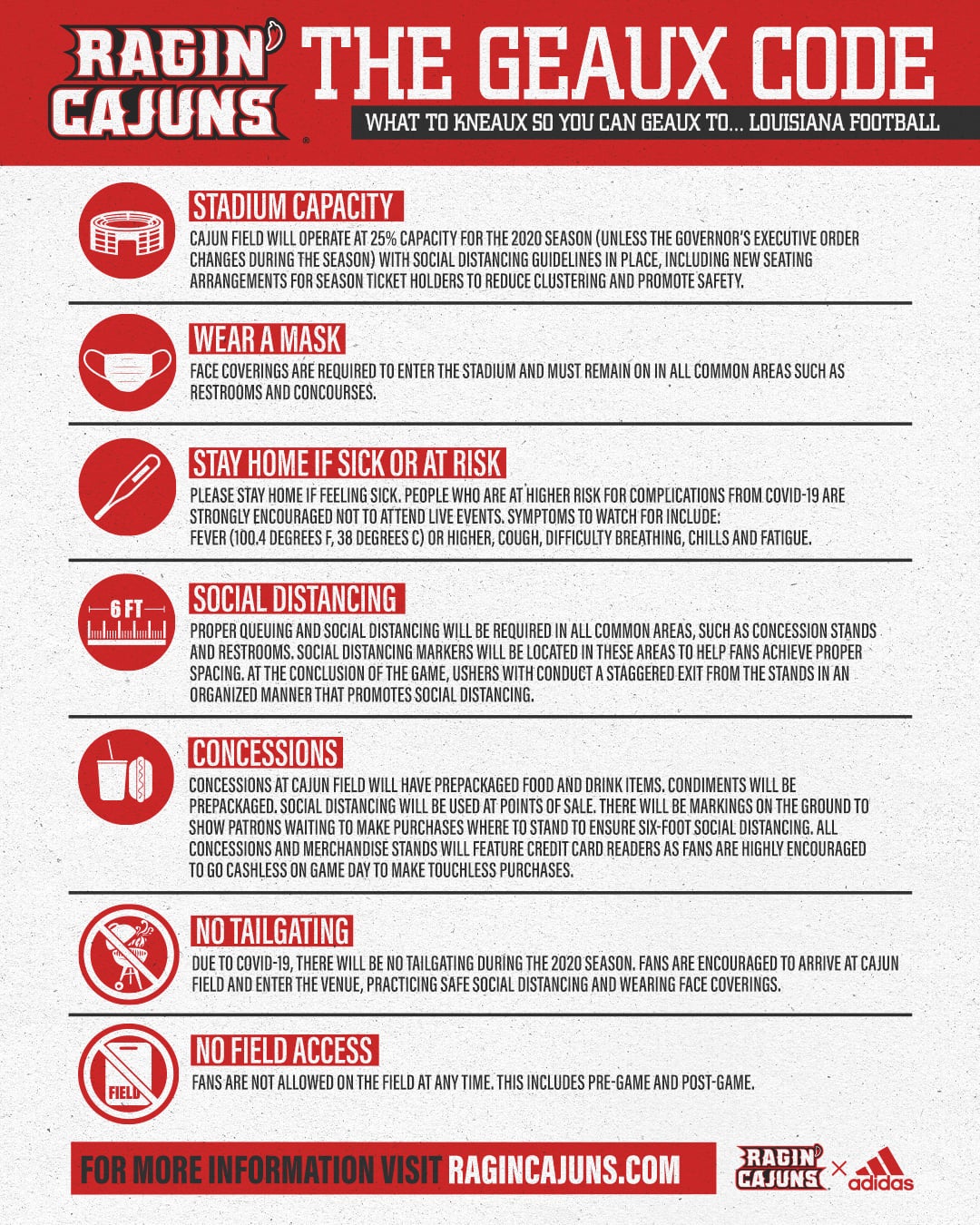 Parking/Tailgating/Outside Stadium
No reserved tailgating or recreational vehicles. The Department of Athletics will monitor the ongoing situation and address changes to these guidelines if necessary.
Parking and stadium gates will open two hours prior to kickoff at Cajun Field on each game day.
Fans are encouraged to arrive at Cajun Field and enter the venue, practicing safe social distancing and wearing face coverings.
In order to promote social distancing and to protect student-athletes, coaches, staff and fans, Cajun Walk will not take place for the 2020 season.
All game day activities outside of the stadium are canceled for the 2020 season.

Inside Stadium/Seating
Cajun Field will operate at 25% capacity for the 2020 season (unless executive order from Governor's office changes during the season) with social distancing guidelines.
Face coverings are required to enter the stadium and must remain on in all common areas such as restrooms, concourses and concession areas.
In accordance with the executive order from the Governor's office, alcohol will not be sold or permitted inside Cajun Field.
All game day workers, vendors and staff will wear face coverings at all times and will be checked and screened prior to the entrance into the stadium.
At the conclusion of the game, ushers will throttle egress from the stands in an organized manner that promotes social distancing.
To ensure social distance seating, a six-foot buffer will be added around each ticket block, and around all aisles, entrances, and vomitories.
All concessions and merchandise stands will feature credit card readers as fans are highly encouraged to go cashless on game day to make touchless purchases.
Concessions will have prepackaged food and drink items. Condiments will be prepackaged. Social distancing will be used at points of sale. There will be markings on the ground to signify where patrons waiting to purchase may stand to ensure six-foot social distancing.
Proper queuing and social distancing will be required in all common areas, such as concession stands and restrooms. Social distancing markers will be located in these areas to assist fans achieve proper spacing. All restrooms will feature one-way entrances and one-way exits in order to provide proper spacing while in line as well as while in the restroom facilities.
Hand sanitation stations will be setup on the concourses and throughout the stadium.
The emergency evacuation procedures will not change from the 2019 season.
Fans will need to perform a self check BEFORE arriving at Cajun Field.

According to the Center for Disease Control (CDC), people with COVID-19 have had a wide range of symptoms reported – ranging from mild symptoms to severe illness. Symptoms may appear 2-14 days after exposure to the virus. People with these symptoms may have COVID-19:
Fever or chills
Cough
Shortness of breath or difficulty breathing
Fatigue
Muscle or body aches
Headache
New loss of taste or smell
Sore throat
Congestion or runny nose
Nausea or vomiting
Diarrhea
IF YOU ARE SICK OR EXPERIENCING SYMPTOMS, STAY HOME.
TICKETS
The Louisiana Athletics Ticket Office is located at the CAJUNDOME. Hours of operation are Monday through Friday, 10 a.m. to 4:00 p.m. Hours may be extended to accommodate the needs of specific events. For ticket information, call the Ticket Office at (337) 265-2357 or visit www.ragincajuns.com/tickets.
General Ticket Information
Game day ticket sales windows will open at 10:00 a.m. at the Cajundome Box Office
The Main Ticket Booth at Russo Park and Will Call (located at this ticket booth) will open at 11:00 a.m. (if game times have moved up – the Main Ticket Booth will open 2.5 hours prior to kick off)
Auxiliary ticket booths will open 2.5 hours prior to kick off.
Stadium gates open 90 minutes before kickoff.
Children under two (2) do not need a ticket. They must be seated on an adult's lap and not interfere with the sightlines of other guests.

Accessible Seating
Accessible patron seating is available behind Sections F on the west side with a raised area behind Section F on the west side and Section O on the east side.
Standing in these areas throughout the game is not permitted.
There is also handicap seating located in the South endzone seating areas located behind Sections V1, W1, W2, X1, and Y.
Contact the Cajundome ticket office for more information.

Louisiana Pass Gate
Louisiana Player pass gate is located at Gate A1 and will open two hours prior to kick off.
A photo ID will be required to receive the tickets.

Visiting Team Pass Gate
The visiting team pass gate is located at Will Call at Russo Park.
The pass gate will open two hours prior to kick off.
A photo ID will be required to receive the tickets.

Will Call
General Will Call is for customers who have purchased in advance and requested their tickets to be left at Will Call.
Customers may pick up Will Call tickets any time in advance at the CAJUNDOME Box Office during normal business hours or on game day beginning at 11:00 a.m. at the Russo Park ticket office.
A photo ID will be required to receive the tickets.
CLEAR BAG POLICY IN EFFECT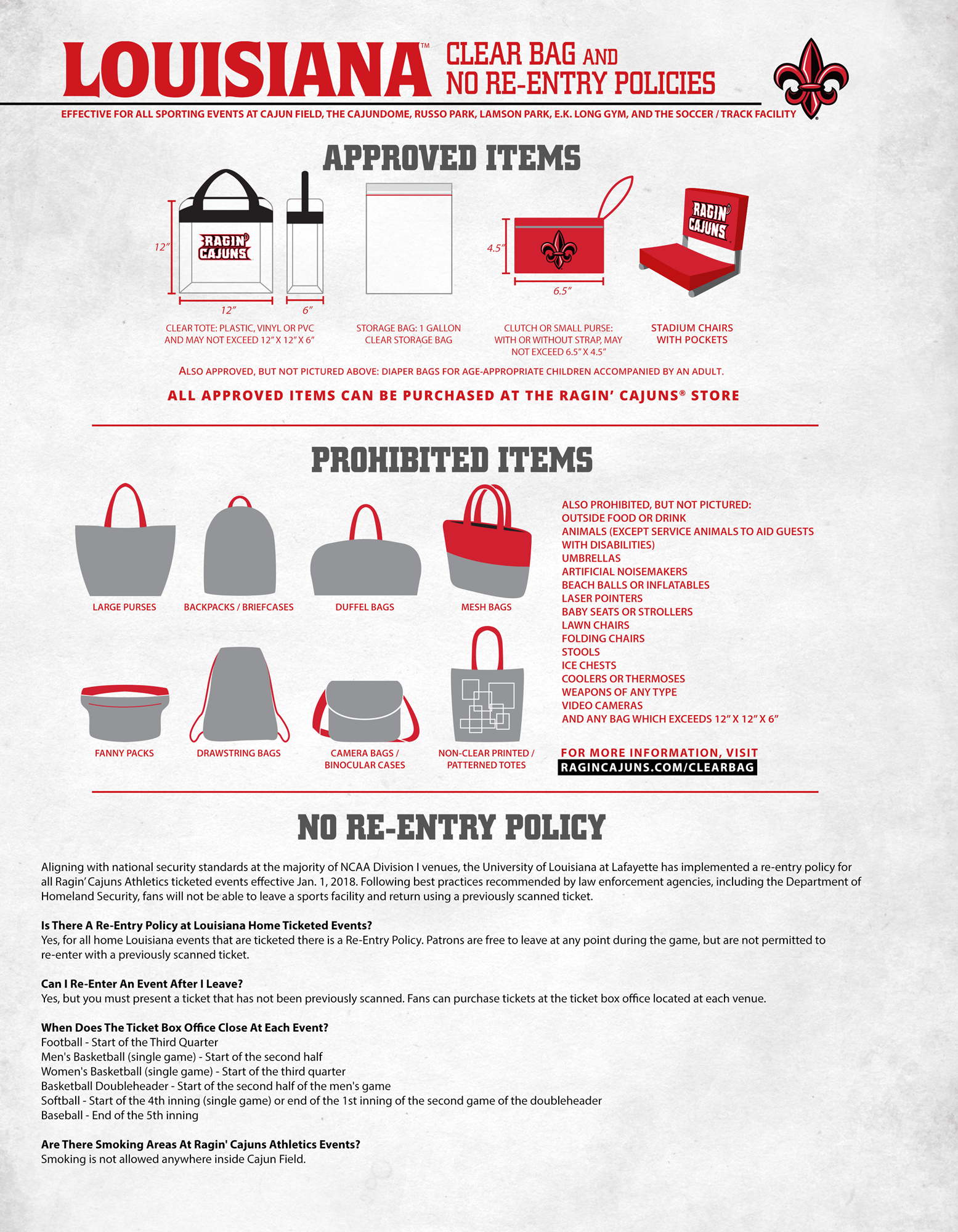 UL Clear Bag Policy: The Louisiana Ragin' Cajuns implemented a clear bag policy effective August 2017.
The policy, which is part of a growing trend at professional and collegiate sporting venues across the country, will start with the 2017-18 competition season and will include all Ragin' Cajuns' venues that host ticketed events: Cajun Field (football), CAJUNDOME (men's and women's basketball), E.K. Long Gym (volleyball), M.L. "Tigue" Moore Field at Russo Park (baseball), Lamson Park (softball), and the Ragin' Cajuns Track/Soccer Facility.
Each ticket holder, including children, may carry one approved clear bag, such as a one-gallon storage bag, plus a small purse.
The following bags will be permitted inside Louisiana Ragin' Cajuns athletic facilities and are subject to search.
Clear plastic bag that does not exceed 12" by 6" by 12".
Clutch or small purse, with or without a strap, that does not exceed 6.5" by 4.5".
Equipment bag for necessary medical items.
Diaper bag for age-appropriate children accompanied by an adult.
Prohibited bags include, but are not limited to: large purses, coolers, briefcases, backpacks, fanny packs, mesh bags, or any bag larger than the permissible size. Tinted or printed-pattern plastic bags are not clear, so they will not be permitted.
A non-obstructive team logo on one side of a clear bag will be permissible. Licensed Ragin' Cajuns clear bags will be available through the Ragin' Cajuns Store and several area retailers.
Fans can wear or carry items such as binoculars, hand-held electronic devices and cameras (with lenses shorter than four inches) without carrying cases. Fans may carry in blankets and seat cushions that will be screened upon entry.
"Ragin' Cajuns events are known for their family atmosphere. We're continually enhancing the safety for our fans, families and friends," said Joey Sturm, director of Public Safety and chief of police. "The new policy will speed up entry into games as an added improvement."
Information about this new policy can be found by visiting www.RaginCajuns.com/clearbag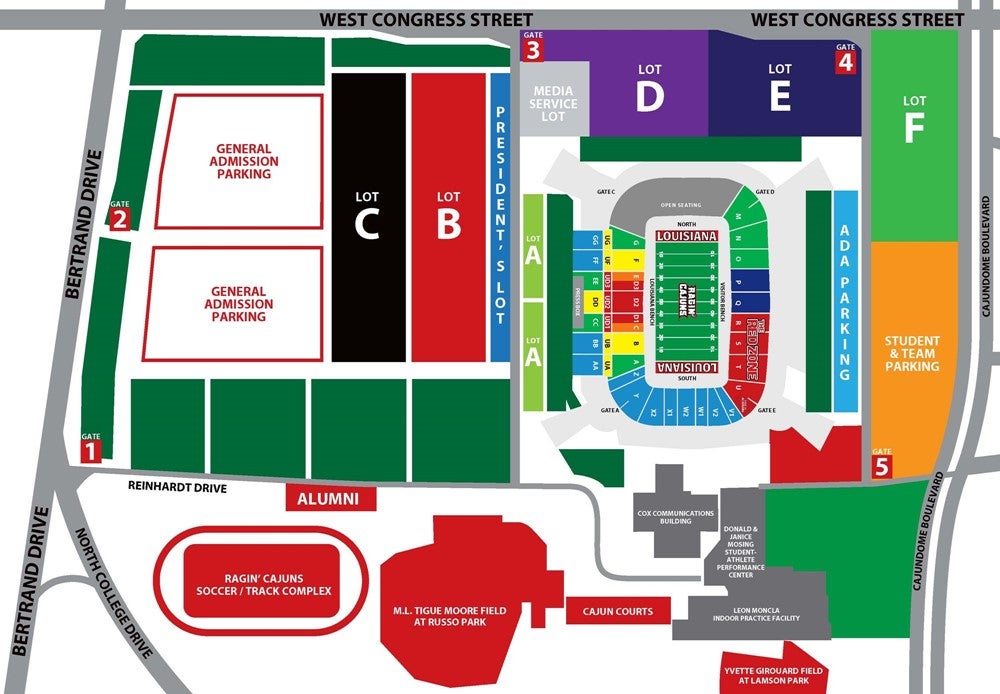 PARKING
Cajun Field parking gates will open TWO HOURS prior to kickoff. There is NO game day parking outside of the Cajun Field parking lots.
Parking passes are required for ALL reservedparking lots at Cajun Field. Patrons with RCAF passes will enter at Gates 3 and 4 on West Congress Street.
Parking in any residential areas or business parking lots WILL RESULT IN TOWING. These areas are not monitored by the University, and the University is not responsible for parking in these lots.
When approaching Cajun Field, you will be directed by parking enforcement to the appropriate lot. If you attempt to park on your own, you are doing so at your own risk.
Trailers are not allowed to park in ANY parking spots. This will result in your trailer being towed.
All parking gates are right turn only as left turns will not be allowed from Congress Street or Bertrand. If you are coming from the University Avenue area, you will need to turn on Johnston Street and turn right on North College Road to get to Cajun Field parking lots.
The Game day Trolley drop-off location will be near the Gate A ramp.
The Uber and Lyft drop-off location will be at Gate 3.
General Admission Parking for the 2020 Season Will Be $15.
Fans parking in the general admission lots will enters at Gates 1 and 2 on Bertrand Drive.
ACCESSIBLE PARKING
State-issued accessible parking tags will be verified at the lot entrance by parking enforcement. Please have your ID ready to help speed up this process.