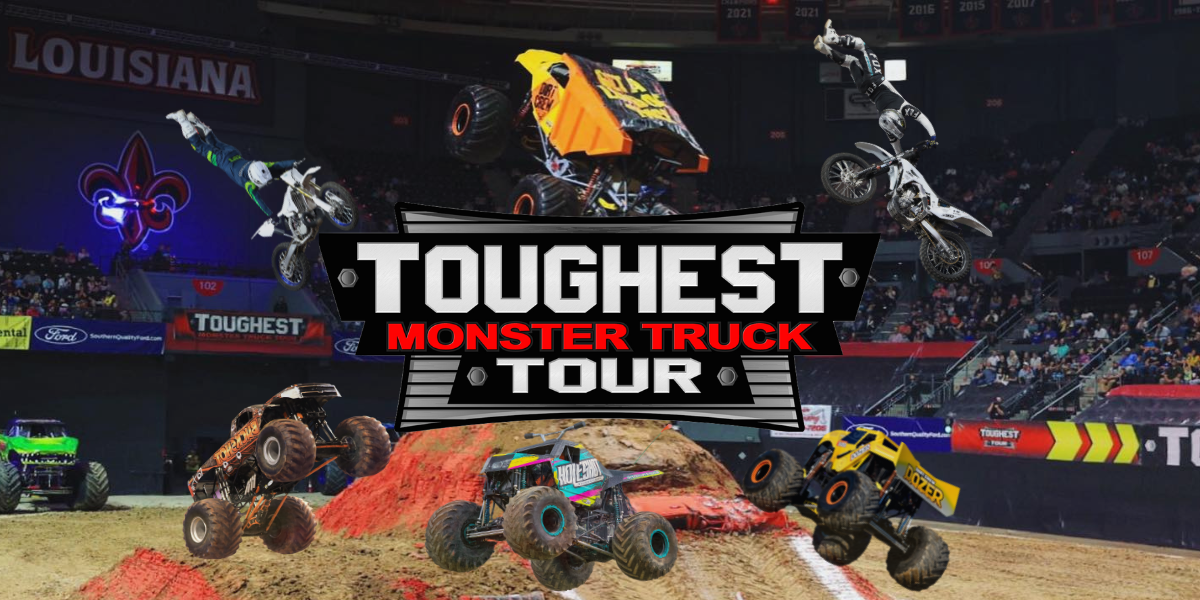 Toughest Monster Truck Tour Returns to CAJUNDOME March 17 & 18
Nov

21

, 2022
TOUGHEST MONSTER TRUCK TOUR RETURNS TO LAFAYETTE
MARCH 17 & 18
Tickets go on sale this Friday, November 25
LAFAYETTE, LA (November 21, 2022) – March 17 & 18, 2023, the Toughest Monster Truck Tour returns to the CAJUNDOME! Tickets go on sale to the public this Friday, November 25, with a $5 discount on ALL adult and child (age 2-12) tickets, PLUS a Free Pit Pass ($15 value) will be included with ALL tickets purchased through December 16.
"As always, our entire crew really enjoys bringing this event to Louisiana and we really appreciate the continuous support of the fans there," said Kelly Hess Goldman, the event promoter. "This year's event will include a brand-new monster truck, never seen before in Lafayette - Dozer - which is a bulldozer-themed monster truck. Some new drivers will also be featured, so stay tuned for more information on that," she added.
Besides Dozer, the line-up will also include the dump truck-themed Dirt Crew, the sportsman's favorite Buckshot, the alligator-themed Tailgator, Bad Habit and Holeshot, which is a restyled version of Quad Chaos and is one of the trucks that will be piloted by a new driver to the tour (but not new to driving monster trucks). The crowd-pleasing, high-flying tricks and stunts of the Freestyle Motocross Team will also be featured.
To celebrate the return of the Toughest Monster Truck Tour, ALL adult and child (age 2-12) tickets purchased from November 25 through December 16 will automatically be $5 OFF and include a free pit pass, regardless of price level. The Pit Pass includes early admission to the Pit Party where fans can walk on the track, see the trucks up close, meet the drivers, get autographs and take photos. After December 16, pit passes can be purchased for $15 each while a limited number of complimentary passes will be available at a location to be announced.
The Toughest Monster Truck Tour main event begins at 7:30 PM on Friday, March 17, with the Pit Party starting at 5:30 PM. The show starts at 6 PM on Saturday, March 18, with the Pit Party starting at 3:30 PM. Tickets are available for purchase at the CAJUNDOME Box Office and on-line at www.toughestmonstertrucks.com.
For information and reviews about the Toughest Monster Truck Tour, visit the Toughest Monster Truck Tour Facebook page or www.toughestmonstertrucks.com.
Back To News