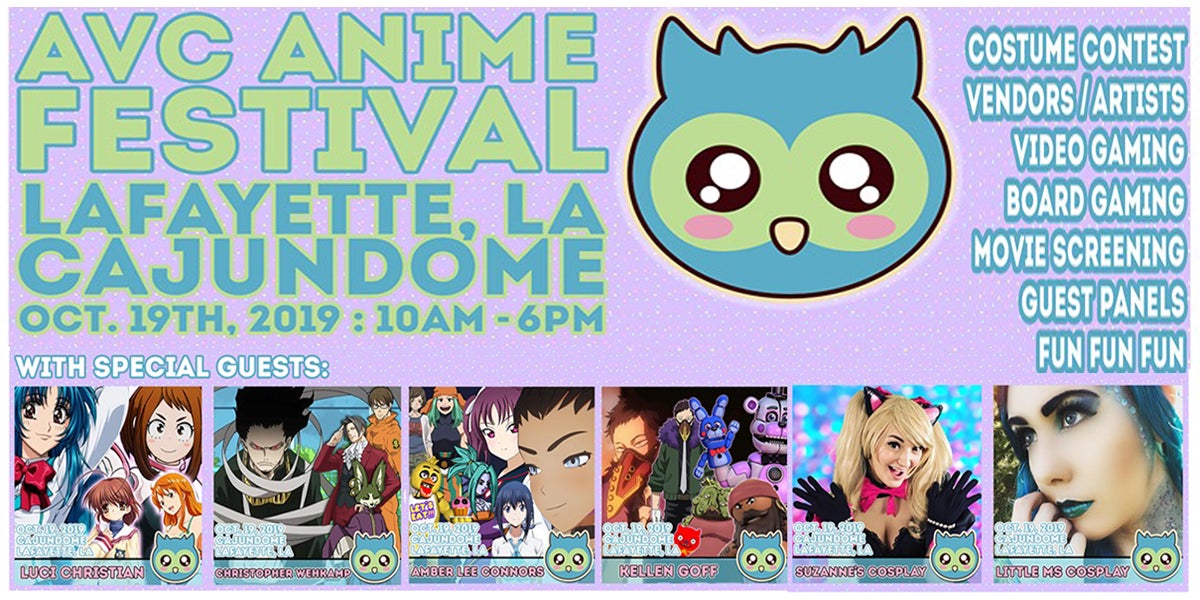 AVC ANIME FEST
Presented by AVC Conventions
AVC ANIME FEST
Presented by AVC Conventions
Event Details
AVC Anime Festival is a one day event being held to celebrate anime and manga, as well as general pop culture and animation, while bringing together a diverse list of guests, vendors, artists, and fan groups, in an affordable, family friendly environment.
Special guest include Chrispher Wehkamp, Amber Lee Connors, Suzanne's Cosplay, Kellen Coff, Little Ms Cosplay, Lucic Christian, Shelby Marie and more.
Panels/Screening Schedule:
Saturday, October 19th MAIN STAGE:
11:00 AM – Cosplayer's Arsenal with Little MS Cosplay
12:00 PM – Cosplay: Then and Now with Suzanne's Cosplay
1:00 PM – Q&A with Kellen Goff
2:00 PM – Q&A with Amber Lee Connors
3:00 PM – Q&A with Christopher Wehkamp
4:00 PM – Q&A with Luci Christian
5:00 PM – AVC Anime Festival Costume Contest
Saturday, October 19th PANEL ROOM:
11:15 AM – A Penpaller's Journey with Elizabeth Moore
12:15 PM – Top 5 Top 5 Top 5 with AnimeTalk
1:15 PM – Beating Algorithms with Shelby Marie
2:15 PM – JoJo's Bizarre Adventure and You with Mason Picard
3:15 PM – Foamsmithing Armor and Props with Voodoo King Cosplay
4:15 PM – That's Entertainment (Law) with Jay Long
Saturday, October 19th SCREENING ROOM:
11:00 AM – Fairy Tail – Dragon Cry: Rated TV-14, Run Time: 85 minutes
1:00 PM – Your Name.: Rated PG, Run Time: 107 minutes
3:00 PM – One Piece – Heart of Gold: Rated TV-14, Run Time: 104 minutes
Please Note: All guest appearances are confirmed but are subject to cancellation due to professional obligations and opportunities beyond our control. All signature/autograph/photo pricing is at the discretion of the guest and may possibly change. Many guests do not release their pricing until they arrive at the event
*Facility fee & sales tax included in the above stated ticket prices. Additional Fees will be applied when purchasing online through Ticketmaster.
Prices will increase $5.00 day of
Kids under 2yrs old Free
NO REFUNDS WILL BE ISSUED UNLESS THE EVENT IS CANCELLED.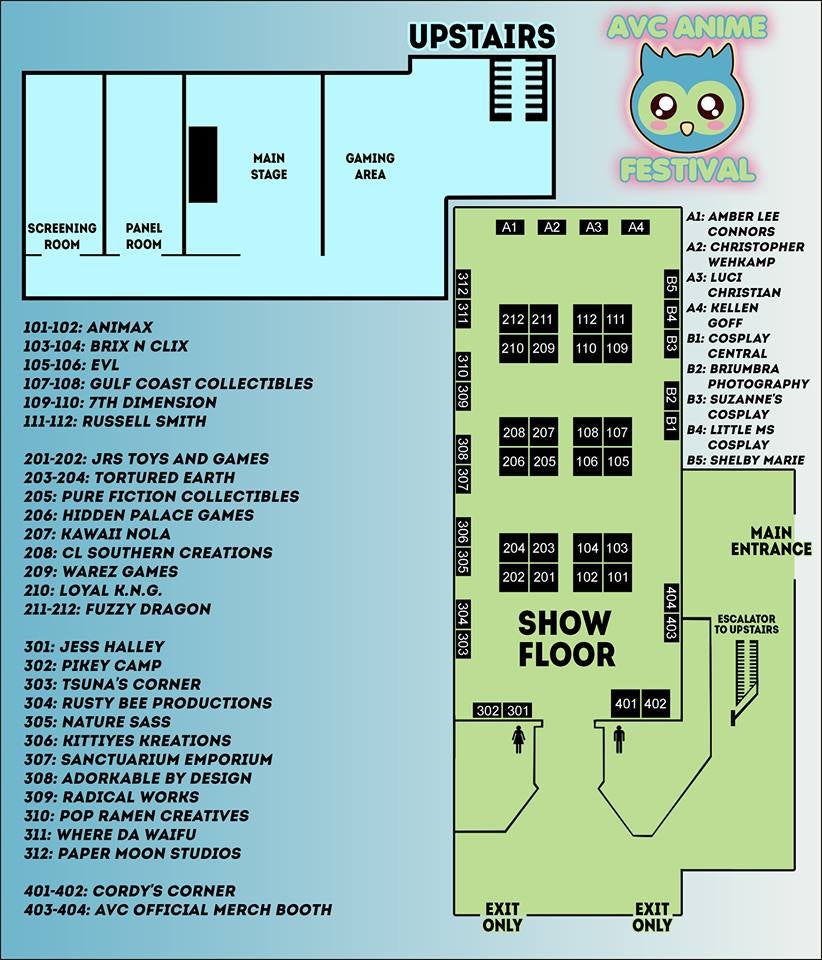 COSTUME CONTEST DETAILS
How to enter:
Signups for all contests are Saturday at the Cosplay Central/Briumbra Photography booth from 10 AM to 2:30 PM. You must be completely registered by 2:30 PM; no submissions will be taken after this time. The contests will begin at 5:00 PM.
Masquerade:
A fun and pressure-free way to show off your cosplay on stage regardless of where it's from or how it was made! Entries limited to the first 75 sign-ups.
– Awards are given for Best Individual Costume, Best Group, and Fan Favorite
Craftsmanship Competition:
Entries are judged on the craftsmanship (design, construction, execution, and general presentation) of a costume. Awards are given for the top three costumes.
Rules:
1. At least 60% of entrant's costume must be handcrafted by the participant. Purchased or commissioned costumes (or anything considered not original work) do not qualify for the craftsmanship category.
2. The costume's creator(s) may have a model wearing the costume for the contest. In these cases, the creator(s) must be present for judging, must be the owner of the costume, and would be credited for any awards (not the model).
3. Costumes that have won any award in any other costume contest are not permitted.
Kids Cosplay Masquerade:
Children aged 12 & under, accompanied by an adult
-Awards are given for the top three costumes
Awards:
Masquerade:
"Best Overall Group" – Certificate & Briumbra Photography Gift Certificate
"Best Individual" – Certificate & Briumbra Photography Gift Certificate
"Fan Favorite" – Certificate & Briumbra Photography Gift Certificate
Kids:
"Kids Cosplay Contest Winner" – Certificate & Briumbra Photography Gift Certificate
Craftsmanship:
"1st Place in Craftsmanship" – 1st Place Trophy, Briumbra Photography Gift Certificate, & Vendor Gift Certificate
"2nd Place in Craftsmanship" – 2nd Place Trophy & Briumbra Photography Gift Certificate
"3rd Place in Craftsmanship " – 3rd Place Trophy & Briumbra Photography Gift Certificate
COSPLAY RULES
1. Shoes are required at all times while in the public areas of the convention center. Even if a cosplay character goes barefoot, the cosplayer must wear shoes.
2. Costumes and daily wear shall not expose the body in such a way as to be deemed indecent exposure.
3. All costumes worn within the convention center must fit through a standard doorway. Any attendee wearing a bulky costume, or one with poor visibility, should have a handler available to escort him/her. In addition, please ensure any bulky costume is properly ventilated to prevent heat stroke.
4. Any metal items used for cosplays are not allowed to have sharp or pointed edges that could potentially cause injury. Real swords, bats, etc. are not allowed. A safer material substitute is an alternate option.
5. No costume or prop may generate odor, smoke, or fog.
6. Cosplay props are to be checked in with security at the registration area before they will be allowed in the convention area.
7. All props must be non-working and peace bonded. Security will peace-bind any props, and attendees will assume responsibility that they have read this policy and agree to follow the rules as outlined in it.
8. Any violation of a peace-bind will result in an immediate loss of prop privileges.
9. No functioning projectile props.
10. If security deems a prop dangerous or harmful it will not be allowed. This will be decided on a case by case basis.
11. Attendees will not brandish, point, flail, play-fight, run with, or use their prop in any kind of threatening manner.
12. Inappropriate conduct with any camera (video or photo) will be grounds for removal of convention privileges, up to and including revocation without a refund.
13. If you want to take a photo of a cosplayer, it's proper form to ask first. Most will be happy to oblige and pose fiercely.
14. These rules may be modified as needed to help protect the safety of all attendees.
15. Most importantly…
A. Have fun.
B. Don't be a jerk.