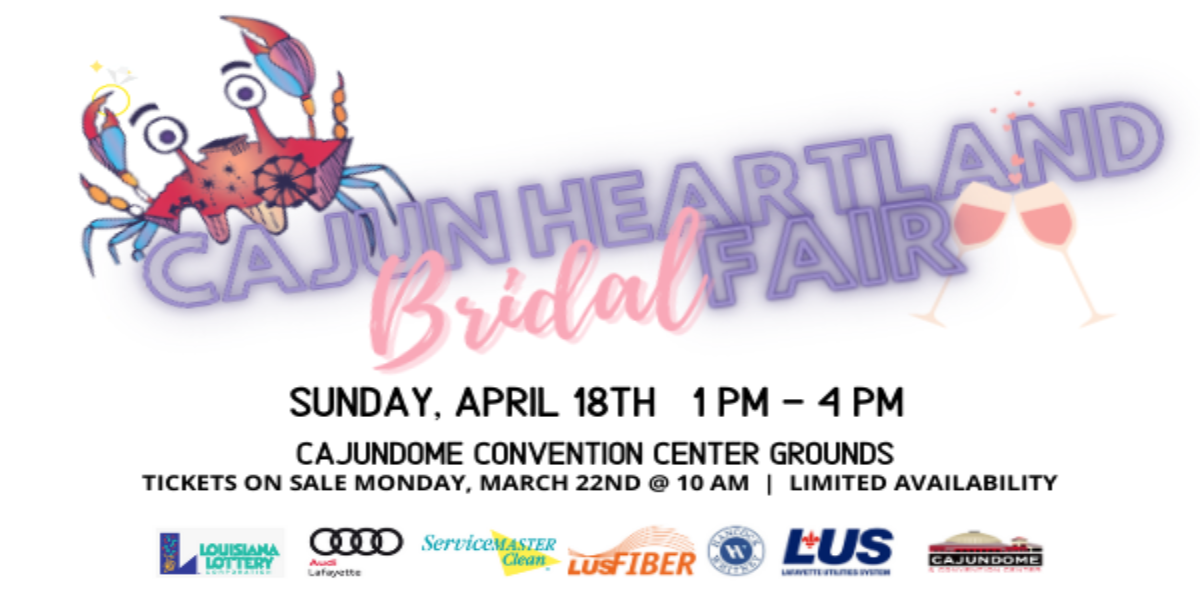 Cajun Heartland Bridal Fair & Event Expo
Cajun Heartland Bridal Fair & Event Expo
Event Details
Recently engaged or maybe recently rescheduled?
Join us for the first ever CAJUN HEARTLAND BRIDAL FAIR & EVENT EXPO on Sunday, April 18, from 1PM - 4PM! Vendors from across Acadiana will be showcased at the CAJUNDOME Convention Center grounds to discuss what they can offer for your special day and beyond. Most of these vendors service events beyond weddings, let them be your local resource for wedding and baby showers, rehearsal dinners, engagement & birthday parties and more.

So, no matter if you've just started the wedding planning process or are looking for a few last minutes details to make your day extra special, stop by and see what our Acadiana event businesses have to offer!
Tickets are available for purchase online or at the CAJUNDOME Box Office. Each ticket includes a complimentary mimosa or bottled water at arrival. Tickets can be purchased during the following appointment slots while supplies last: 1 PM, 2 PM, & 3 PM.
If the wedding & bridal market is a significant part of your business, consider joining us as a vendor for the Cajun Heartland Bridal Fair! For more information and to register, visit the link below.
For specific vendor questions, contact the event coordinator at 337-265-2355.
Interested in participating as a sponsor of the Cajun Heartland Bridal Fair? Contact the Fair Coordinator at 337-265-2355.
Face Coverings & Social Distancing
Face Coverings: We will follow all current state mandates, and as such, will require face coverings for all participants and guests attending this event.
Social Distancing: All participants and guests are reminded to observe social distancing guidelines of 6 feet when moving about the venue, or waiting to use restroom or concession facilities.
Meet with Acadiana's wedding industry vendors at the Cajun Heartland Bridal Fair!
ACCOMMODATIONS
ATTIRE
SUIT UP (MENSWEAR & TUXEDO RENTALS)
CATERERS
ARTISAN CREATIVE CATERING (Official catering service of the CAJUNDOME Convention Center, off-site catering also available)
AROMAS CAFE (FOOD TRUCK) Sandwiches, Caribbean Burgers, Empanadas, Plantains, Loaded French Fries, & more.
EXQUISITE GOURMET COTTON CANDY (Prepackaged Cotton Candy for dessert tables and Live spun Cotton Candy)
FEZZO'S (Buffet Style, custom menus, table service, bar, catering, white glove, etc.)
THE LOUISIANA BEAN (Mobile Coffee Bar)
TAPPED BA-YOU (Mobile Beverage Equipment Rental Service)
NINA CREOLE (Mobile Food Caterer)
BUTTERMILK SKY PIE (Handmade Pies)
COORDINATORS/EVENT PLANNERS
DECOR
FITNESS/WELLNESS
MUSIC
PHOTOGRAPHERS/VIDEOGRAPHERS
VENUES