Cajun Heartland Bridal Fair & Event Expo
Cajun Heartland Bridal Fair & Event Expo
Event Details
Recently engaged or maybe recently rescheduled?
Join us for the next CAJUN HEARTLAND BRIDAL FAIR & EVENT EXPO on Sunday, October 10, from 12PM - 3PM! Vendors from across Acadiana will be showcased at the CAJUNDOME to discuss what they can offer for your special day and beyond. Most of these vendors service events beyond weddings, let them be your local resource for wedding and baby showers, rehearsal dinners, engagement & birthday parties and more.
So, no matter if you've just started the wedding planning process or are looking for a few last minutes details to make your event extra special, stop by and see what our Acadiana event businesses have to offer!
We'll be giving out fabulous door prizes throughout the entire show! The featured bridal fashion show will highlight the latest trends for your entire bridal party, catch the show in the Table Room. Box Office will close at 2:30 PM. Clear bags permitted only. Everyone needs a ticket.
Plus, grab a cold drink in the Table Room and join us as we cheer on the Saints at Noon!
Early bird tickets go on sale Friday, August 6, at 12:00 PM Noon and can be purchased at the CAJUNDOME Box Office or online at Ticketmaster.com. Advance general admission tickets are $8 or $12 at the door. Additional online fees may apply.
VIP Brunch: $35 ticket includes early event admission, complimentary brunch bites and beverages, swag bag, and insider tips and tricks from industry pros. Tickets for the VIP Brunch are limited and only available in advance. Additional online fees may apply.
The Box Office will open at 12 PM Noon on Sunday, October 10, and close at 2:30 PM. Guests will enter through the Table Room entrance.
Clear Bag Policy, Face Coverings & Social Distancing
Face Coverings: Required for entry
Social Distancing: All participants and guests are reminded to observe social distancing guidelines of 6 feet when moving about the venue, or waiting to use restroom or concession facilities.
NEW CLEAR BAG POLICY FOR CAJUNDOME & CONVENTION CENTER EVENTS
The policy, which is part of a growing trend at venues across the country, will start March 1, 2020.
Each ticket holder, including children, may carry one approved clear bag, such as a one-gallon clear storage bag or clear purse no larger than 12" x 12" x 6". The following bags will be permitted inside the CAJUNDOME & Convention Center and are subject to search.
Gallon size clear plastic storage bag.
Clear bag equal to or smaller than 12" x 12" x 6"
A clutch or purse smaller than 6.5" x 4.5"
Equipment bag for necessary medical items.
Diaper bag for age-appropriate children accompanied by an adult.
Prohibited bags include, but are not limited to: large purses, duffle bags, coolers, briefcases, backpacks, fanny packs, mesh bags, or any bag larger than the permissible sizes mentioned above. Tinted or printed-pattern plastic bags are not clear, so they will not be permitted.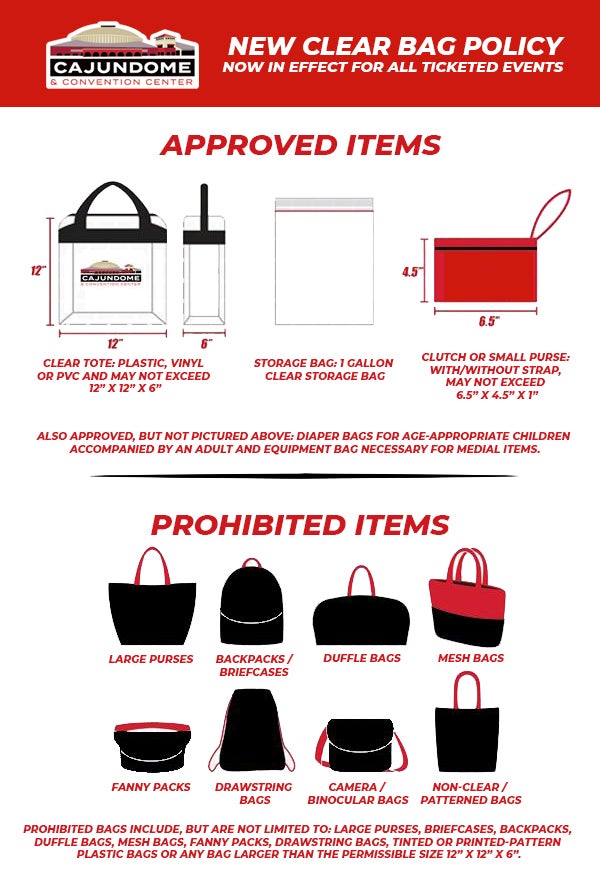 If the wedding & bridal market is a significant part of your business, consider joining us as a vendor for the Cajun Heartland Bridal Fair! For more information and to register, visit the link below.
For specific vendor questions, contact the event coordinator at 337-265-2355.
Interested in participating as a sponsor of the Cajun Heartland Bridal Fair? Contact the Event Coordinator at 337-265-2355 for more information.
Meet with Acadiana's wedding industry vendors at the Cajun Heartland Bridal Fair!
ATTIRE
CATERERS
FITNESS/WELLNESS
PHOTOGRAPHY/VIDEOGRAPHY/PHOTOBOOTH SERVICES
PLANNING SERVICES
VENUES
Sign up early for the exclusive Cajun Heartland Bridal Fair VIP Experience. Start your day of wedding planning at our VIP Brunch! Gain valuable information as you listen to presentations from the experts, pick up your VIP swag bag, and enjoy complimentary brunch bites & beverages!
There are a limited number of VIP Tickets available so reserve your seat today. Must purchase ticket in advance. Admission into Cajun Heartland Bridal Fair is included in VIP ticket. Clear bags permitted only. Everyone needs a ticket.