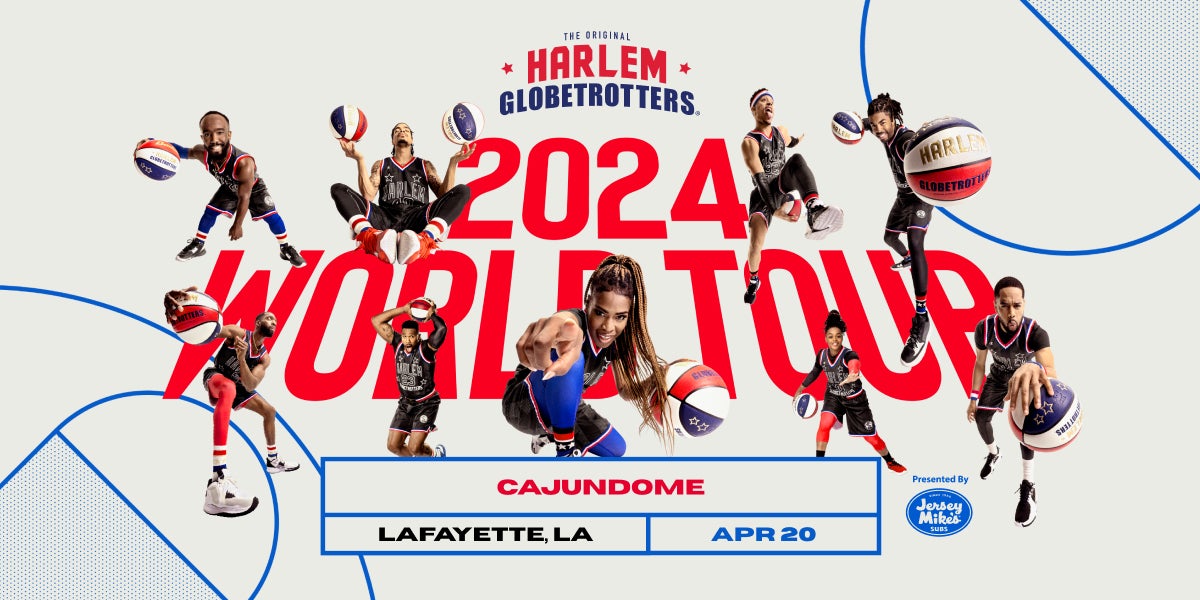 Harlem Globetrotters
2024 WORLD TOUR
Harlem Globetrotters
2024 WORLD TOUR
Event Details
Don't miss your chance to be a part of the world-famous Harlem Globetrotters global tour as they take the court with moments of extreme basketball innovation and unparalleled fan FUN.
See the Globetrotter stars LIVE as they DRIBBLE, SPIN and DUNK their way past their relentless rivals, the Washington Generals! You'll be amazed by new levels of mind-blowing trick shots, expert ball-handling skills, and BIG LAUGHS with NEW unrivaled opportunities for pre-game, post-game and in-game fan engagement.
See Hammer, TNT, Bulldog, Cheese, Torch, Hot Shot, Jet, Wham and Thunder – just to name a few – as they run circles around the Washington Generals ON THE COURT and bring the HYPE TO THE CROWD. YOU might even find yourself mid-court as part of the ALL-NEW, FAN-FILLED Halftime Skills Showcase!
PLEASE NOTE: Children under 2 are free (no seat provided). Clear Bag Policy will be in effect. Thanks in advance for your cooperation.
TIMES TO NOTE:
Magic Pass: 12:30 PM - 1 PM
Table Room: 1:00 PM
Lobby Doors: 1:00 PM
Showtime: 2:00 PM
*Applicable facility fee & service charges are additional.
Children under 2 do not need a ticket (no seat provided).
BRING A GROUP!
Bring a group of 10 or more, and save on tickets! Scout and Military discounts also available. For details, contact HGI-groups@comcastspectacor.com or call 215-952-5200.
NEW CLEAR BAG POLICY FOR CAJUNDOME & CONVENTION CENTER EVENTS
The policy, which is part of a growing trend at venues across the country, will start March 1, 2020.
Each ticket holder, including children, may carry one approved clear bag, such as a one-gallon clear storage bag or clear purse no larger than 12" x 12" x 6". The following bags will be permitted inside the CAJUNDOME & Convention Center and are subject to search.
Gallon size clear plastic storage bag.
Clear bag equal to or smaller than 12" x 12" x 6"
A clutch or purse smaller than 6.5" x 4.5"
Equipment bag for necessary medical items.
Diaper bag for age-appropriate children accompanied by an adult.
Prohibited bags include, but are not limited to: large purses, duffle bags, coolers, briefcases, backpacks, fanny packs, mesh bags, or any bag larger than the permissible sizes mentioned above. Tinted or printed-pattern plastic bags are not clear, so they will not be permitted.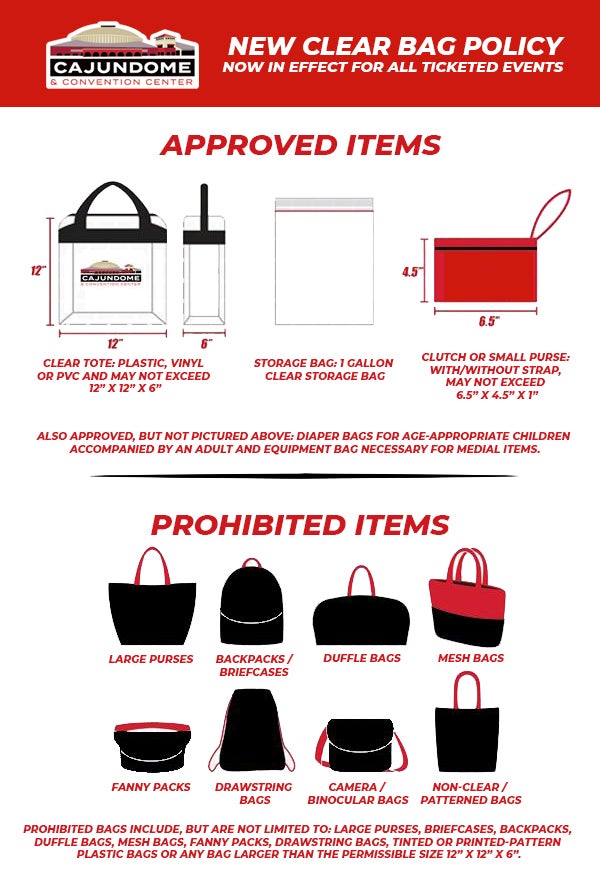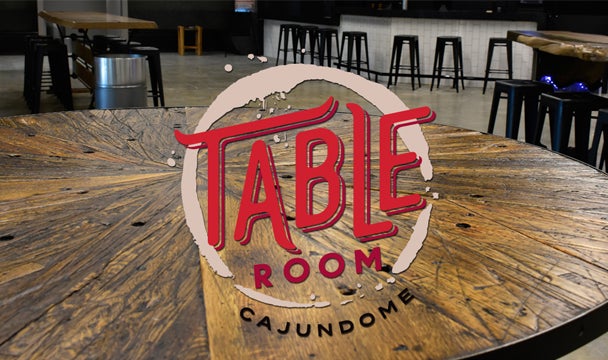 The Table Room is a brand new venue space that will provide an additional entertainment space featuring full bar service including beer, specialty cocktails and premium wine selections. The Table Room provides an opportunity for concert and event patrons to arrive early and socialize with friends, family and other guests.
The Table Room is scheduled to open for ticketed guest at 1:00 PM.
Calling all hoop lovers! This is your chance to show that you've got GAME. Bring the fam and join the Harlem Globetrotters on the court before the game to shoot some hoops, show your skills, and get autographs & photos! The one-of-a-kind 30-minute pre-show, "Magic Pass," begins 90-minutes before tip-off and will create memories you'll never forget. All participants must have a game ticket AND Magic Pass for entry. This includes all children as well as the parent/guardian(s) wishing to accompany them. Soft.rubber soled shoes must be worn on court.
Purchase your Magic Pass when you purchase your tickets online at Ticketmaster or at the CAJUNDOME Box Office. The Magic Pass event will take place from 12:30 PM - 1:00 PM.
PRIVATE SUITE RENTAL
Experience a CAJUNDOME event from the comfort of a luxury suite. These newly renovated luxury suites can accommodate anywhere from 16 - 40 guests and include some of the finest amenities available. While the view from the suites will be one to remember, the real memories come from those extra perks that make these suites the premier showplace for entertaining. Rest assured that whomever your guest may be, the level of entertainment and service will be second to none.
Please contact the Premium Sales Department at 337-265-2355 for more information or click on the following button to request more information.
Tickets to event (depending on suite capacity)
VIP Entry
VIP parking spaces
Private restroom
Dedicated suite attendants
Upscale furnishings with a great view overlooking the arena
TV monitor linked to the in-house channel (cable ready)
Wet bar with sink, ice bin and refrigerator (not available in all suites)
Cabinets for storage
Independent climate control
Private and secure environment
Upscale catering service available
By accepting a ticket and using it for entry or resale/other, you are acknowledging that an inherent risk of exposure to COVID-19 exists in any public place where people are or have been present and that the CAJUNDOME cannot ensure that its premises are risk-free.
By attending the Event, you and any guests voluntarily assume all risks related to exposure to COVID-19 (coronavirus), and agree not to hold the Lafayette City-Parish Consolidated Government, its officials, employees and volunteers, the CAJUNDOME Commission and The University of Louisiana at Lafayette for any illness or injury in connection with your or your guests, attendance at the Event.
You assume all risks, hazards, and dangers arising from or relating in any way to the risk of contracting a communicable disease or illness—including, without limitation, exposure to COVID-19 or any other bacteria, virus, or other pathogen capable of causing a communicable disease or illness, whether that exposure occurs before, during, or after the event, and regardless of how caused or contracted—and you hereby waive any and all claims and potential claims against Ticketmaster, H.G.I., and the Event Organizer — and against any companies affiliated with Ticketmaster, H.G.I., or the Event Organizer / Promoter — relating to such risks, hazards, and dangers.