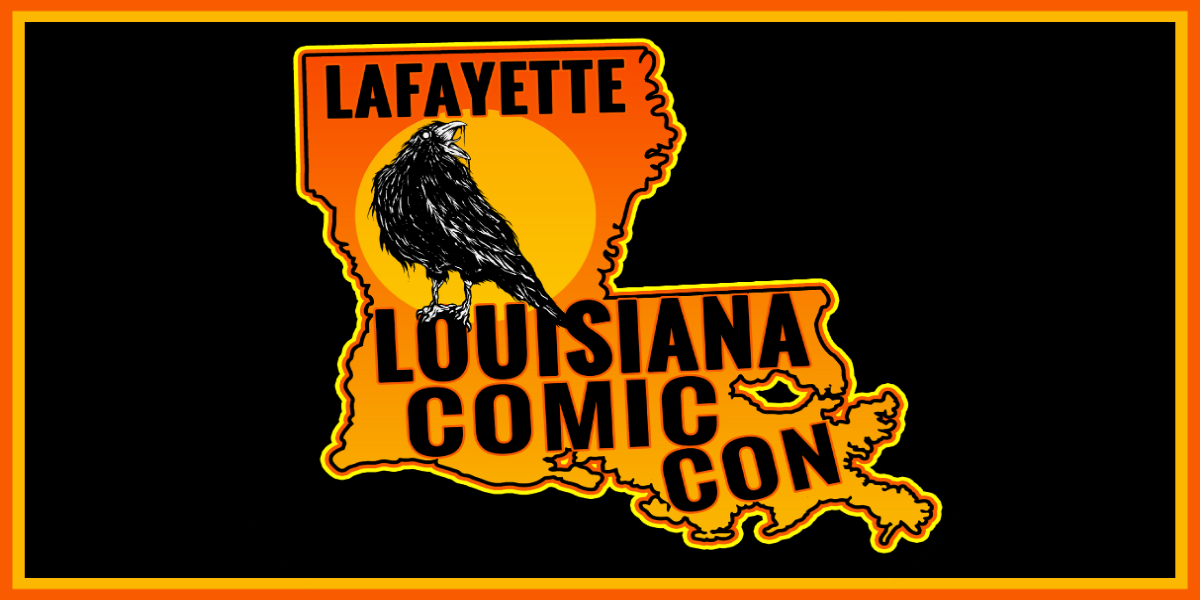 Louisiana Comic Con
Louisiana Comic Con
Event Details
Louisiana Comic Con is a two day event held at the CAJUNDOME Convention Center that brings together a diverse list of guests, vendors, artists, and fan groups, in an affordable, family friendly environment.
Please visit the Official website for current guest line-ups and show information.
A Note From LA Comic Con Organizers:
The CAJUNDOME Box Office will be open on Friday, March 9th from 10am until 4pm and will be doing pre-sale check ins for anyone with a pre-sale ticket. If you want to get a head start on the weekend and go ahead and pick up your wristbands for Louisiana Comic Convention early, this is the only day before the event that you can do so. The Box Office will also be open during its normal hours during the week, but will only be doing pre-sale check-ins on Friday.
Please remember that children 10 years old and younger are free with a paid adult admission (limit two per paid adult) but kids tickets must be picked up in person at the Box Office day of show. The same policy applies to military discounted admission tickets. You must show proof of service to receive the military discount. As a former service member myself, I appreciate your commitment and thank you for your service.
On Saturday morning, the CAJUNDOME event staff will begin checking in pre-sale ticket holders at 9 AM. Day of tickets sales will not begin until 10AM on Saturday morning. On Sunday, both pre-sale check in and day of event ticket sales will be begin at 11AM.
As you approach the lines for tickets, please get in the appropriate line, show your proof of purchase (if applicable), and then head over to security (after you have your wristband securely on your wrist) to go through the security check point before entering the convention center. Please have any bags ready to be searched, props out, and be as alert as possible when approaching the security lines. The venue security is simply following guidelines set by the venue. They did not make the rules, so please don't get angry with them in regards to any regulations they are being asked to enforce. We will have a separate post regarding venue and show rules and regulations, bag restrictions, and other general info on the event itself.
If you make it in the building before the vendor hall doors open at 10AM, you can either head upstairs and check out the fan groups and gaming area, or mingle in the foyer until the show starts. Please be aware of your surroundings and try and make room for as many people as possible to enter.
Be considerate of your fellow friends in fandom.
Reminders:
All persons and bags entering the building are subject to search.
PROHIBITED ITEMS:
FOR SAFETY REASONS, PATRONS MAY BE REFUSED ENTRY IF THEY ARE IN POSSESSION OF PROHIBITED ITEMS INCLUDING, BUT NOT LIMITED TO: ALCOHOLIC BEVERAGES, ILLEGAL DRUGS, KNIVES/POCKET KNIVES, WALLET CHAINS, WEAPONS OF ANY TYPE, ANY FOOD ITEMS OR DRINKS, GLASS/PLASTIC/METAL CONTAINERS, VIDEO OR AUDIO RECORDERS, LASER POINTERS, BACKPACKS, COOLERS, CONFETTI, HELIUM BALLOONS, BASKETBALLS, BEACH BALLS, PARCELS OR PACKAGES AND LARGE BAGS OF ANY KIND.
By accepting a ticket and using it for entry or resale/other, you are acknowledging that an inherent risk of exposure to COVID-19 exists in any public place where people are or have been present and that the CAJUNDOME cannot ensure that its premises are risk-free.
By attending the Event, you and any guests voluntarily assume all risks related to exposure to COVID-19 (coronavirus), and agree not to hold the Lafayette City-Parish Consolidated Government, its officials, employees and volunteers, the CAJUNDOME Commission and The University of Louisiana at Lafayette for any illness or injury in connection with your or your guests, attendance at the Event.
You assume all risks, hazards, and dangers arising from or relating in any way to the risk of contracting a communicable disease or illness—including, without limitation, exposure to COVID-19 or any other bacteria, virus, or other pathogen capable of causing a communicable disease or illness, whether that exposure occurs before, during, or after the event, and regardless of how caused or contracted—and you hereby waive any and all claims and potential claims against Ticketmaster, Live Nation, and the Event Organizer — and against any companies affiliated with Ticketmaster, Live Nation, or the Event Organizer /Promoter (LA Comic Con) — relating to such risks, hazards, and dangers.
Parking will be available around the CAJUNDOME via Gate 12 on Reinhardt Drive in addition to Gate 8 on Congress Street and across the street at Cajun Field. Please look for the digital signage in place to direct you to available parking.