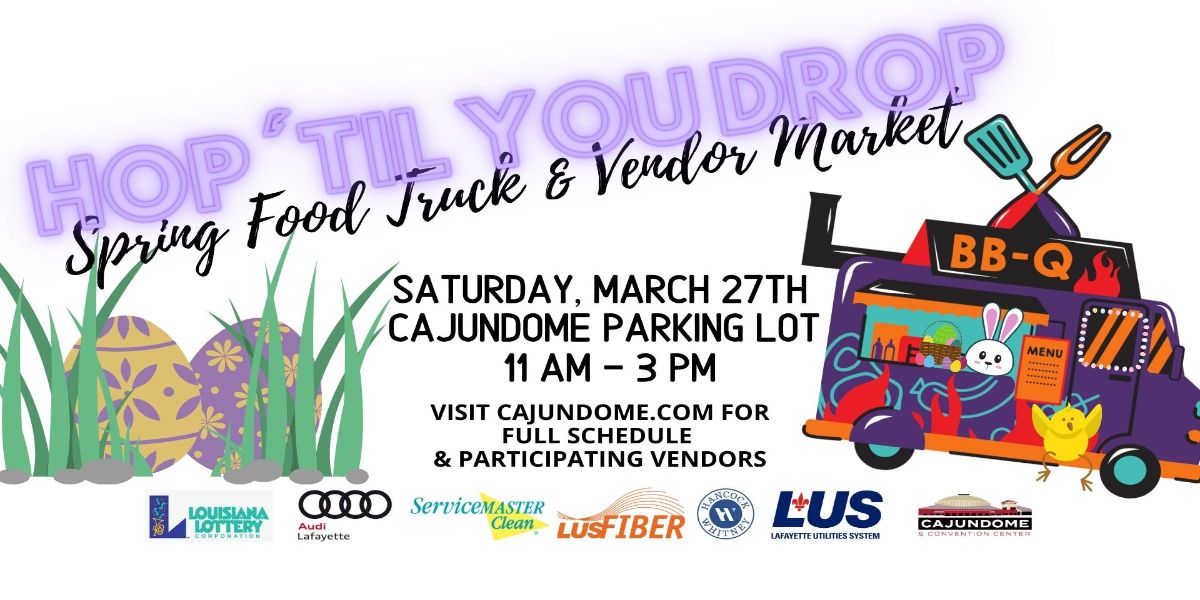 Hop 'til You Drop!
Spring Food Truck & Vendor Market
Hop 'til You Drop!
Spring Food Truck & Vendor Market
Event Details
Hop on over to the CAJUNDOME on Saturday, March 27, from 11 AM – 3 PM for the "Hop 'til You Drop" Spring Food Truck & Vendor Market!
Keep an eye out for our CAJUNDOME eggs and scan their QR code for a chance to enter to win some Easter basket prizes from some of our awesome event partners like the Harlem Globetrotters, craft and food vendors and more!
Plus, enjoy social distance and family-friendly activities like taking Easter bunny photos, visiting critters from the Schoolhouse Safari, and riding on the All Aboard Party Headquarters train!
Check back for updates on participating vendors and food trucks.
This event is free to attend. Please, no outside food and beverage.
PARTICIPATING MARKET VENDORS
ART
Hannah Louise LLC (Louisiana themed photographs, photo transfers, louisiana themed paintings, religious paintings)
Cass Kustoms (Paintings & Drawings)
fm art (canvas art, vases, prints, hand painted items)
ACCESSORIES/JEWELRY
BEAUTY PRODUCTS/PERSONAL CARE ITEMS
Lolli's Lip Service (Lipsense and other Senegence products)
Thyme To Liv (Kid's Easter soaps, skincare products)
Seaux Shea Bath & Body (Handcrafted products for sensitive skin)
Gracefully Broken Creations (100% Soy Candles, Bath Products)
Topanga Scents (Luxury laundry detergents, fabric sprays, cleaners)
GLAMaholics (Farmasi Make-Up & Skincare)
Arieyl (CBD & Non-CBD products)
Edrei Fayre Cosmetics LLC (Lip Gloss, Lip liner, Eyeshadow pigments)
Alkemy Soaps (Hand made artisan soaps, bath bombs, and bubble scoops)
Quick Nails by Cassie (Color Street)
The Natural Way (Herbal teas, bath teas, sea moss, & accessories)
CLOTHING
CUSTOM/PERSONALIZED GIFT ITEMS
Evangelia D Designs (Custom tumblers, pens, & crafts)
London Paige Designs (Cups, Puzzles, Key Chains)
ScentSations Boutique (Car Freshies)
De'Neas Designz (Custom Tumblers, T-Shirts, Wine Glasses)
Glitter Krewe, LLC (Glitter, Silicone Molds, Tumblers, Resin Items)
JD Products (Wooden puzzle boards, Wooden crosses made with flatware & vintage brooches, home and novelty decor)
San-Sation Creations (Tumblers, coasters, cutting board, trivets, pillows)
HOME DECOR/YARD ART
Magnolia Maison Boutique (Wooden Door Hangers, Yard & House Decor)
JRE Boutique & Designs (Laser crafted home decor & jewelry)
Crafty Cuts & Gifts (Outdoor & Home Decor)
Courtney's Custom Creations (Yard Signs & Door Hangers)
Sweet Sayings, Signs & More (Farmhouse & seasonal decor)
Karla's Kreations (Handcrafted wood and resin crafts)
Wirtz Works (Raised planter boxes, Squirrel feeders, Bird Feeders, Wood wall hangers)
Hammer & Stain Lafayette (Seasonal home wood decor, DIY kits, vintage ceramic lighted trees, private parties for kids and adults)
The Magnolia Loft (granite cheese boards, home decor)
6 Girls Crafts (Handmadewooden easter baskets, handcrafted decor, wreaths, gift sets)
Metanoia Warehouse (Macrame Wall Hangings Home Decor Rattan indoor/outdoor seating)
Candle Royale (Soy Candles)
FOOD PRODUCTS
Josey's Goods (Jams, Jellies, Preserves)
Petunia Pecans (Candied Pecans)
SDJ Sweet Treat (Praline candy, Ooey gooey cake, Cocoa Bombs, Rice Krispie treats, Teacakes)
For the Jars (Personalized charcuterie jars filled with cured meats, cheeses, fruits and veggies, variety of other snacks/treats)
Sweet & Sassy Bakery (Baked goods, cakes, pies, brownies, cookies, chocolates)
Divine Cakes & Sweets Boutique (Pies, Chocolate caramel apples, Cake slices, Brownies, Cake balls, Cookies, Kids treats)
Exquisite Gourmet Cotton Candy (30+ Flavors)
The Conjure Collective, LLC. (Bread, Cookies, Sweet Breads, Dino Boogies)
B&P BBQ Sauce (BBQ sauces & Cajun Honey Mustard sauce)
Cherie's Corner (Meat Pies, Crawfish Balls, Sweet Dough Tarts, Flavored Popcorn, Personal Cobblers, Candy Apples, Popcorn Balls)
Charlie & the Peanut Butter Factory (Single serve peanut butter treats in 30+ flavors)
Simply Carmelicious Authentic Pralines
Sugar Spun Fairies (Cotton Candy Tacos)
Hunt's Perfect Roast (Coffee, Fresh Roasted Coffee Beans or Ground Coffee)
Cher Confectionaire LLC (NYC Style 1/4 lb Cookies, Flat Stanley Cookies, Cake in a Jar, Cakesicles, Bagels, Artisan Loaves)
RELIGIOUS ITEMS
Juju's Beads & Gifts (Hand painted blessing beads, wooden & resin crosses & art)
3Doves Crafts (Handmade rosaries, bracelets, bookmarks, keychains, and car rosaries)
OTHER
Check Back for More Updates!
Guest parking will be available at CAJUNDOME Gate 12 off Reinhardt Drive with overflow parking available across the street at Cajun Field. Please use the CAJUNDOME Boulevard pedestrian tunnel to cross over to the event.
Vendor Parking will be available at CAJUNDOME Gate 8 off Congress Street.
Masks & Social Distancing
Face Coverings: We will follow all current state mandates, and as such, will require face coverings for all participants and guests attending this event. Guests may only remove face coverings when actively eating or drinking or can maintain a safe distance of 6 feet or more from other household groups.
Social Distancing: All participants and guests are reminded to observe social distancing guidelines of 6 feet when moving about the event grounds, or waiting to use restroom or concession facilities.
Interested Vendors can sign up via our registration form.