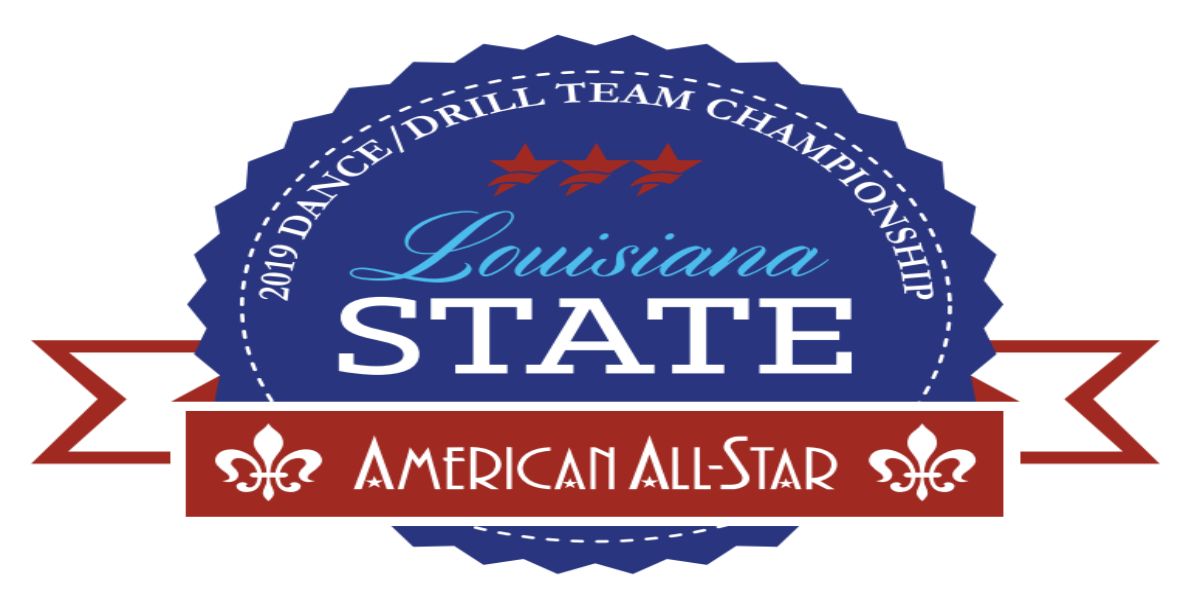 American All Star Louisiana State Dance/Drill Team Competition
American All Star Louisiana State Dance/Drill Team Competition
Event Details
LOUISIANA STATE COMPETITION
SATURDAY JANUARY 15, 2022 – CAJUNDOME ARENA – SMALL GROUPS & SOLOS
SUNDAY JANUARY 16, 2022 – CAJUNDOME ARENA – TEAM COMPETITION
Kids 5 yrs and under are admitted for free with accompanying adult.
Tickets available for purchase at the CAJUNDOME Box Office on the day of the event.
Ticket includes admission for both days.
*Facility fee & sales tax included in the above stated ticket prices. Additional Fees will be applied when purchasing online through Ticketmaster.
Purchase a Digital Copy of the Competition Performances
NEW CLEAR BAG POLICY FOR CAJUNDOME & CONVENTION CENTER EVENTS
The policy, which is part of a growing trend at venues across the country, will start March 1, 2020.
Each ticket holder, including children, may carry one approved clear bag, such as a one-gallon clear storage bag or clear purse no larger than 12" x 12" x 6". The following bags will be permitted inside the CAJUNDOME & Convention Center and are subject to search.
Gallon size clear plastic storage bag.
Clear bag equal to or smaller than 12" x 12" x 6"
A clutch or purse smaller than 6.5" x 4.5" (does not have to be clear)
Equipment bag for necessary medical items.
Diaper bag for age-appropriate children accompanied by an adult.
Prohibited bags include, but are not limited to: large purses, duffle bags, coolers, briefcases, backpacks, fanny packs, mesh bags, or any bag larger than the permissible sizes mentioned above. Tinted or printed-pattern plastic bags are not clear, so they will not be permitted.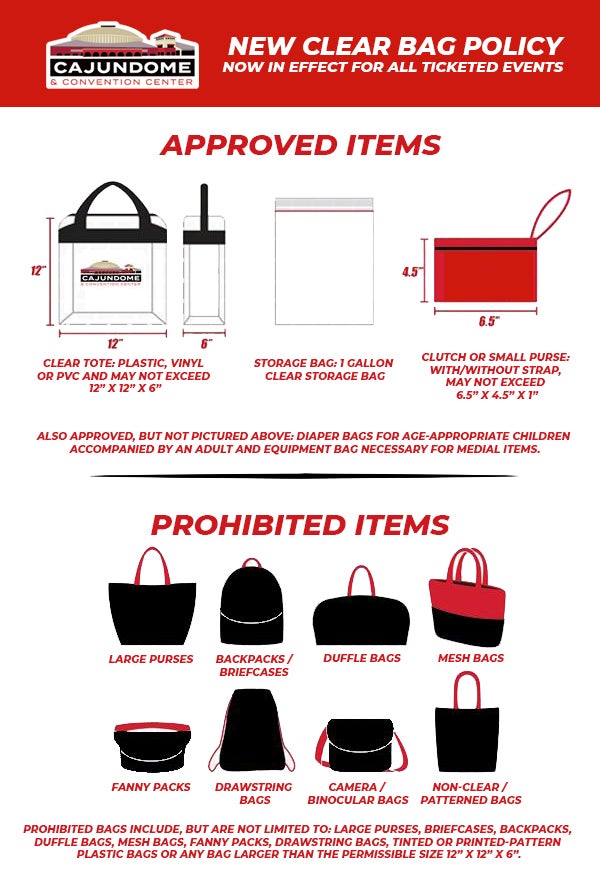 By accepting a ticket and using it for entry or resale/other, you are acknowledging that an inherent risk of exposure to COVID-19 exists in any public place where people are or have been present and that the CAJUNDOME cannot ensure that its premises are risk-free.
By attending the Event, you and any guests voluntarily assume all risks related to exposure to COVID-19 (coronavirus), and agree not to hold the Lafayette City-Parish Consolidated Government, its officials, employees and volunteers, the CAJUNDOME Commission and The University of Louisiana at Lafayette for any illness or injury in connection with your or your guests, attendance at the Event.
You assume all risks, hazards, and dangers arising from or relating in any way to the risk of contracting a communicable disease or illness—including, without limitation, exposure to COVID-19 or any other bacteria, virus, or other pathogen capable of causing a communicable disease or illness, whether that exposure occurs before, during, or after the event, and regardless of how caused or contracted—and you hereby waive any and all claims and potential claims against Ticketmaster, Ragin' Cajun Athletics, and the Event Organizer / Promoter — and against any companies affiliated with Ticketmaster, Ragin' Cajun Athletics, or the Event Organizer / Promoter — relating to such risks, hazards, and dangers.
Limited parking available behind the CAJUNDOME and in the West Marquee lot at Gate 8 on Congress Street. Overflow parking is available at Cajun Field. Guests should utilize the CAJUNDOME Boulevard pedestrian tunnel to access the CAJUNDOME Convention Center.
Ride Share/Drop-off drive thru access at Gate 12 on Reinhardt Drive.