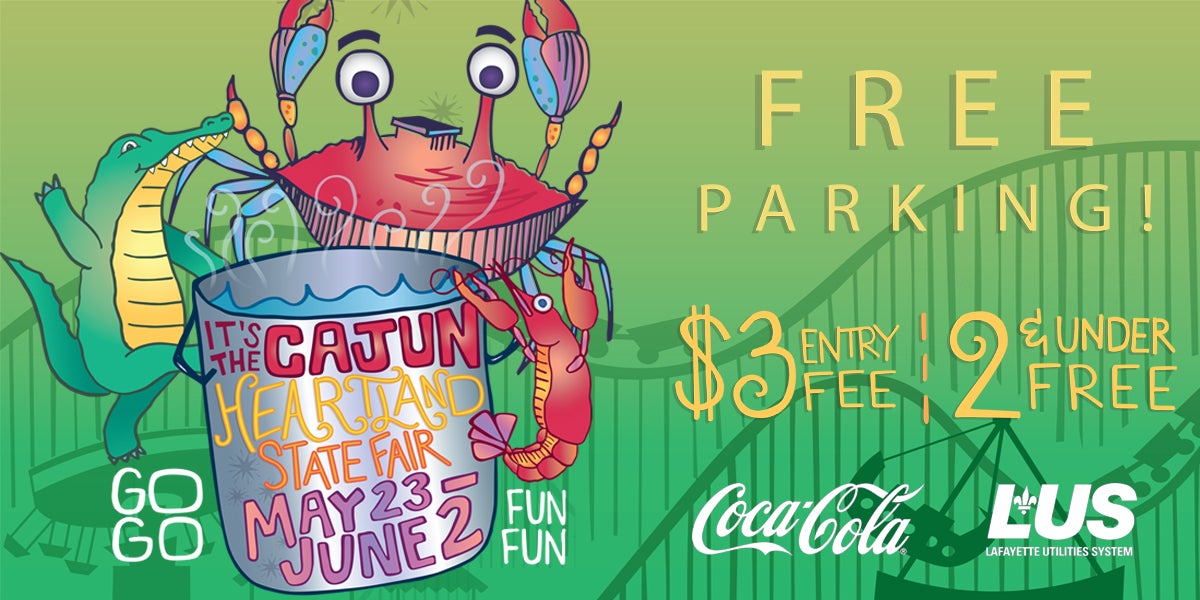 Cajun Heartland State Fair
Presented by LUS & Coca-Cola
Cajun Heartland State Fair
Presented by LUS & Coca-Cola
Event Details
CAJUN HEARTLAND STATE FAIR
MAY 23 - JUNE 2, 2019
The 31st Annual Cajun Heartland State Fair is scheduled for May 23 - June 2, 2019. The Cajun Heartland State Fair is an eleven day fair produced by an innovative and insightful team of professionals on the CAJUNDOME staff and North American Midway; priding themselves on knowing the right mix of entertainment arranged to provide maximum enjoyment for all ages. The ride specials, food, free attractions and family oriented games make an outstanding summer experience. Truly, there is something for everyone to enjoy at the Cajun Heartland State Fair fairgrounds.
The KATC TV 3 Midway will feature classic super rides such as the giant Ferris wheel, the roller coaster the Bullet Train and the Blizzard; while offering new rides like the Star Dancer! While the NEWS 15 & Townsquare Media Lagniappe Lane is going to provide your favorite free attractions such as the Show Me Safari Petting Zoo & Swine Races and give fair goers all new entertaining like World of Wonders, Texas Tommy's Wild West Revue and the BIG102.1 Crawfish Village.
Safety Rules & Height Requirements
Please be advised that children under 42" may be required to ride some of the rides with a paying adult.
OUR RIDES
For your Safety, all rides at North American Midway Entertainment have height requirements.
Follow all posted signage and please listen to the instructions given by the ride operator at all times.
Remain seated and restrained and keep your arms, legs and head inside the ride at all times.
Remove all loose articles, such as sunglasses, cell phones, hats, open-toed shoes and jewelry that may have the potential to fall off during the ride. We are not responsible for lost articles.
NO SELFIE STICKS. To ensure the safety of our guests, the use of photo arms, more commonly known as "Selfie Sticks," is strictly prohibited on all rides and attractions on our Midway. "Selfie Sticks" should be left with a non-rider or secured with other loose articles. Guests that do not comply with this policy may be subject to dismissal without refund.
If you have any questions while visiting our Midway, please visit our onsite Guest Services or Offices.
SIZE WIZE
Save time by measuring your child in advance at our SIZE WIZE measuring charts located near our ticket sales. Once you have the correct measurement, look for the SIZE WIZE signs posted at each ride to ensure your child meets the requirements. This will also help with determining which ticket package you will want to purchase.
Please be advised that children under 42" may be required to ride some of the rides with a paying adult.
We look forward to seeing you on our Midway!