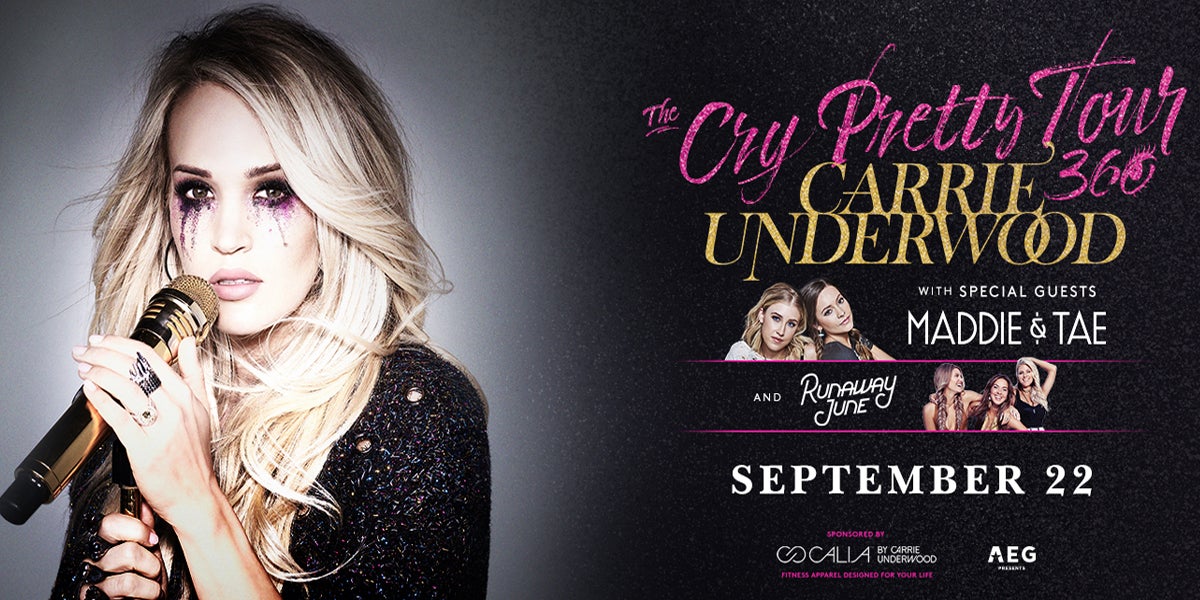 CARRIE UNDERWOOD
The Cry Pretty Tour 360
CARRIE UNDERWOOD
The Cry Pretty Tour 360
Event Details
With Special Guests
Maddie & Tae
Runaway June
*Facility fee & sales tax included in the above stated ticket prices. Additional Fees will be applied when purchasing online through Ticketmaster.
Carrie Underwood VIP Packages Available
The Cry Pretty `Ultimate' VIP Experience
The Cry Pretty `Diamond' (Early-entry) VIP Package
The Cry Pretty `Emerald' VIP Package
The Cry Pretty `Sapphire' (Early-entry) VIP Package
For more information and details to all VIP Packages click the VIP Packages link below.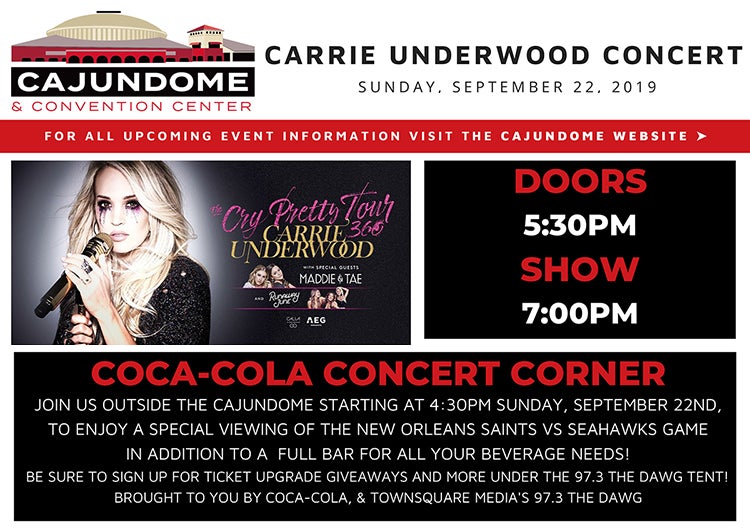 THE CAJUNDOME INTRODUCES THE COCA-COLA CONCERT CORNER
JOIN US OUTSIDE THE CAJUNDOME STARTING AT 4:30PM SUNDAY TO ENJOY A SPECIAL VIEWING OF THE NEW ORLEANS SAINTS VS SEAHAWKS GAME IN ADDITION TO A FULL BAR OUTSIDE FOR ALL YOUR BEVERAGE NEEDS! BE SURE TO SIGN UP FOR TICKET UPGRADE GIVEAWAYS AND MORE UNDER THE 97.3 THE DAWG TENT!
BROUGHT TO YOU BY THE CAJUNDOME, COCA-COLA, & TOWNSQUARE MEDIA'S 97.3 THE DAWG.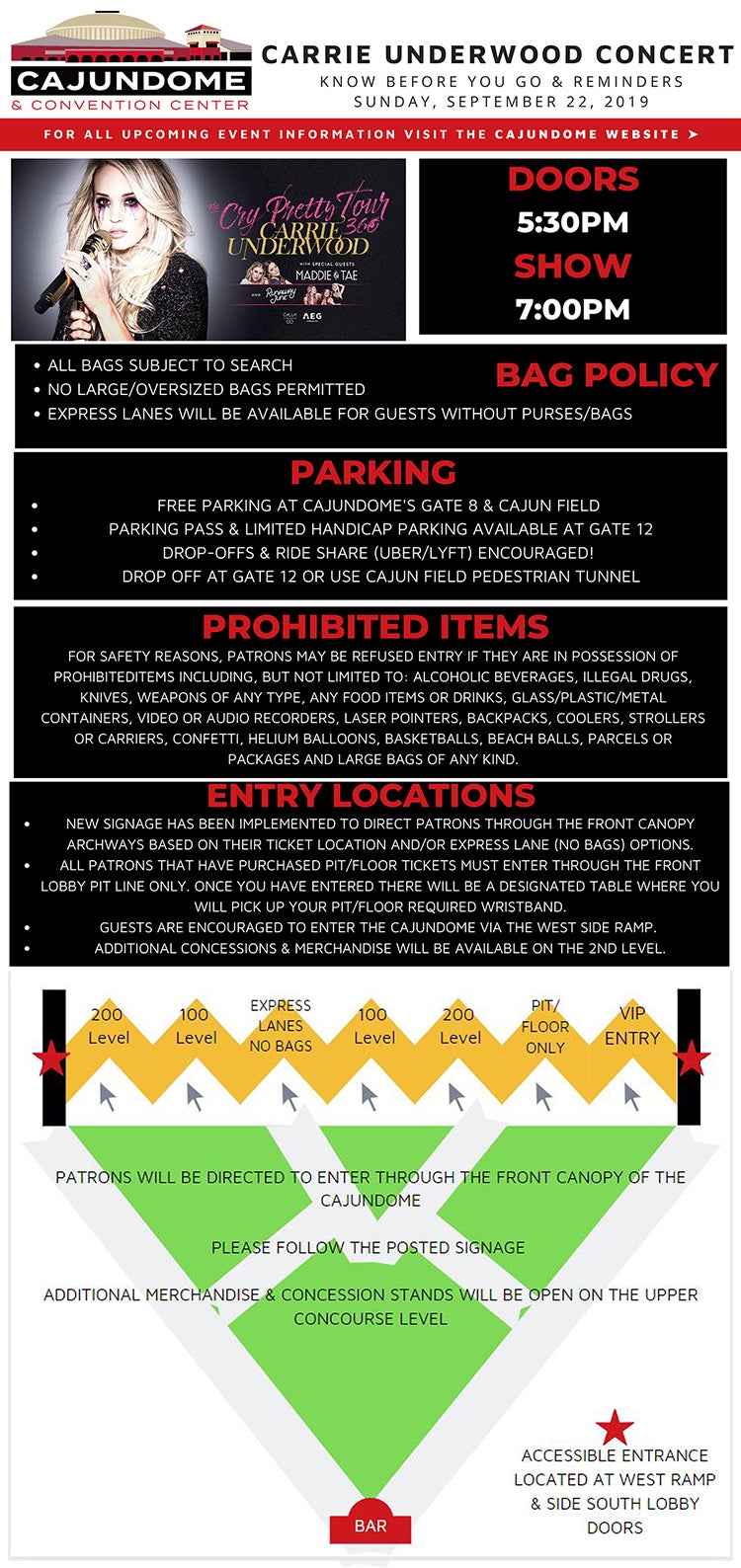 THE FOLLOWING PARKING OPTIONS ARE AVAILABLE:
FREE PARKING AT CAJUNDOME'S GATE 8 & CAJUN FIELD
PARKING PASS & LIMITED HANDICAP PARKING AVAILABLE AT GATE 12
DROP-OFFS & RIDE SHARE (UBER/LYFT) ENCOURAGED!
DROP OFF AT GATE 12 OR USE CAJUN FIELD PEDESTRIAN TUNNEL
PLEASE FOLLOW THE FOLLOWING TIPS ON OUR NEW ENTRY PROCEDURES:
DOORS OPEN AT 5:30PM
ALL PATRONS THAT HAVE PURCHASED PIT/FLOOR TICKETS MUST ENTER THROUGH THE FRONT LOBBY PIT LINE ONLY. ONCE YOU HAVE ENTERED THERE WILL BE A DESIGNATED TABLE WHERE YOU WILL PICK UP YOUR PIT/FLOOR REQUIRED WRISTBAND.
NEW SIGNAGE HAS BEEN IMPLEMENTED TO DIRECT PATRONS THROUGH THE FRONT CANOPY ARCHWAYS BASED ON THEIR TICKET LOCATION AND/OR EXPRESS LANE (NO BAGS) OPTIONS.
GUESTS WITH 200 LEVEL TICKETS ARE ENCOURAGED TO ENTER THE CAJUNDOME VIA THE WEST SIDE RAMP. NEW SIGNAGE WILL BE PLACED TO DIRECT PATRONS WITH 2ND LEVEL TICKETS TO THE WEST SIDE RAMPS. CONCESSIONS & TOUR MERCHANDISE WILL BE AVAILABLE ON THE 2ND LEVEL.
NEW ACCESSIBLE ENTRY POINTS WILL BE LOCATED ON BOTH WEST AND EAST SIDES OF THE MAIN LOBBY ENTRANCE, WHICH CAN BE IDENTIFIED BY NEW ACCESSIBLE ENTRANCE SIGNAGE.
BAG POLICY:
ALL BAGS SUBJECT TO SEARCH
NO LARGE/OVERSIZED BAGS PERMITTED
EXPRESS LANES WILL BE AVAILABLE FOR GUESTS WITHOUT PURSES/BAGS
PROHIBITED ITEMS:
FOR SAFETY REASONS, PATRONS MAY BE REFUSED ENTRY IF THEY ARE IN POSSESSION OF PROHIBITED ITEMS INCLUDING, BUT NOT LIMITED TO: ALCOHOLIC BEVERAGES, ILLEGAL DRUGS, KNIVES, WEAPONS OF ANY TYPE, ANY FOOD ITEMS OR DRINKS, GLASS/PLASTIC/METAL CONTAINERS, VIDEO OR AUDIO RECORDERS, LASER POINTERS, BACKPACKS, COOLERS, STROLLERS OR CARRIERS, CONFETTI, HELIUM BALLOONS, BASKETBALLS, BEACH BALLS, PARCELS OR PACKAGES AND LARGE BAGS OF ANY KIND.