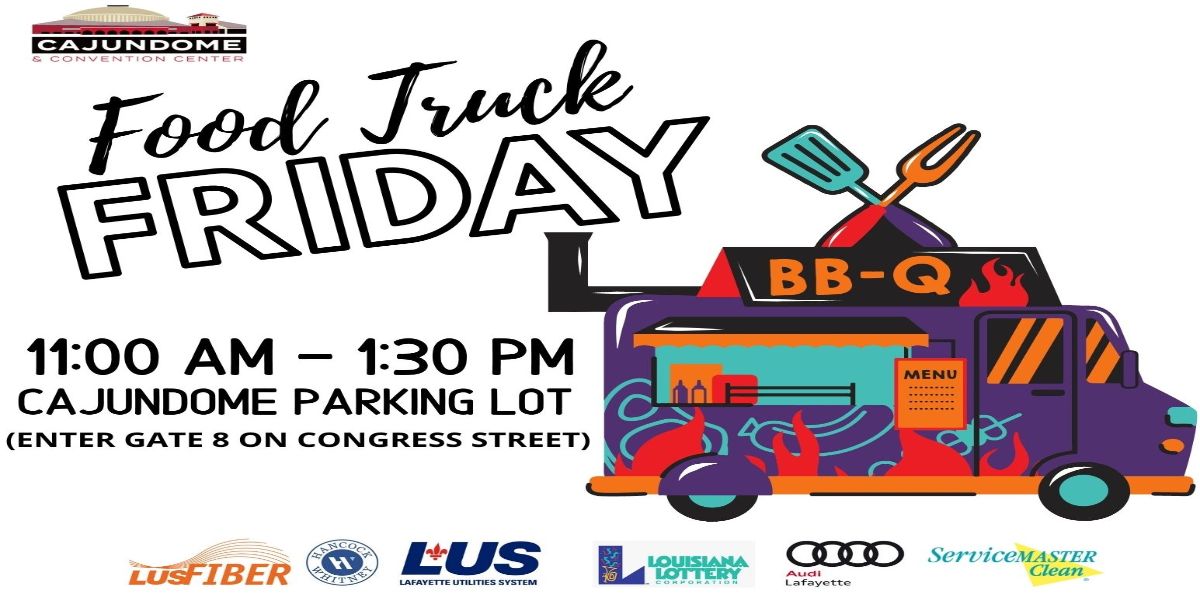 Food Truck Friday Acadiana
Food Truck Friday Acadiana
Event Details
Food Truck Friday features different food trucks & caterers from the best of the best in town. Join us from 11 AM - 1:30 PM at the CAJUNDOME parking lot and enjoy a safe and social distanced event that will be sure to satisfy those lunchtime cravings.
This event is free to attend. Please no outside food or beverage. Food and beverage available for purchase.
*RAIN OR SHINE EVENT*
Vendors welcome, click here to register.
Vendor Information
1. Vendors must register in advance in order to participate. Limited spots available due to social distancing guidelines. You will need to fill this form out for each date you would like to participate.
2. Vendors and any staff working the event are required to wear a face covering throughout the duration of the event.
3. Food trucks/catering trailers are welcome to participate. Merchandise/artisan/craft vendors welcome to participate.
4. All vendors need to be self-sufficient, electrical access not provided.
5. Vendor registration fee due with application. All registrations will be reviewed but not guaranteed approval in order to minimize duplicate vendors. Any registrations not approved will be refunded their application fee. Fees will go toward advertising expenses.
6. Approved vendors will be notified within 1 week of their registration submission and will again be contacted the week of the event with event day logistics and any additional instructions and event information.
7. Registration Deadline: Floating, while spaces are available.The earlier the application is submitted, the more time we have to promote/advertise your participation.
Vendor Set-Up & Tear-Down
Vendor Set-Up Time: 9:00AM - 11:00 AM on the day of the event. Set-Up must be complete by 11 AM and face coverings must be worn starting at 11AM.
Vendor Tear-Down: Approx. 1:30 PM
Please enter at CAJUNDOME Gate 8 from Congress Street and follow parking attendant instructions.
Food Truck Friday Participants
Menus for Friday, December 18, 2020
Landry Brother's Catering: Homemade Burger w/fries; Chicken & Sausage Gumbo; Pulled Pork w/fries
Rob's Rollin' Cafe: Breakfast biscuits, stuffed biscuit , stuffed croissant, wraps, burgers, po-boys, fries, salads, hot dog, chili dogs and more
T's Meals on Wheels: BBQ porksteaks, Hamburgers, Plate Lunch, French Fries
Past Participants
*Check Back for New Vendor Updates