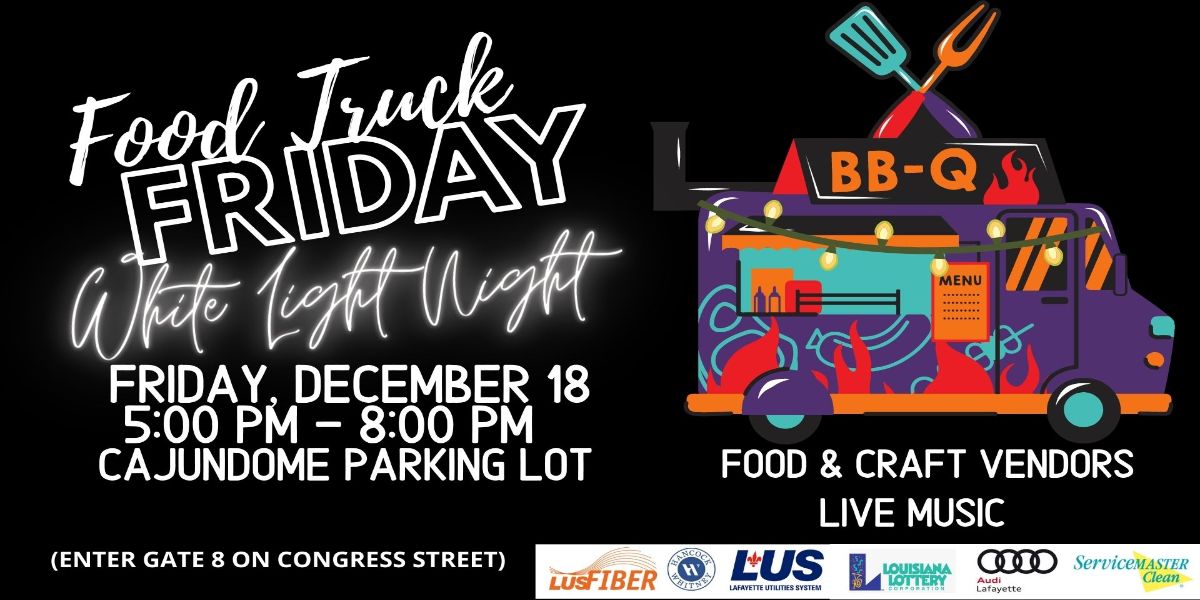 Food Truck Friday Acadiana - White Light Night
Food Truck Friday Acadiana - White Light Night
Event Details
Food Truck Friday Acadiana extends after hours for a White Light Night event on Friday, December 18, from 5PM - 8PM. The event will feature different food trucks & caterers from across Acadiana in one central location along with various craft & artisan vendors. Stop by for a bite and grab any last minute holiday treats and gifts this final weekend before Chirstmas!
This event is free to attend. Please no outside food or beverage. Food and beverage available for purchase. Booths will be spaced out to comply with social distancing guidelines. All participants are required to wear a face covering when on the CAJUNDOME grounds. Face coverings can be removed if actively eating or drinking. Parking available on the CAJUNDOME grounds or overflow at Cajun Field.
By purchasing a ticket and/or attending this event, you acknowledge that an inherent risk of exposure to COVID-19 exists in any public place where people are or have been present and that the CAJUNDOME cannot ensure that its premises are risk-free.
Vendors welcome, click here to register.
Vendor Information
1. Vendors must register in advance in order to participate. Limited spots available due to social distancing guidelines.
2. Vendors and any staff working the event are required to wear a face covering throughout the duration of the event.
3. Food trucks/catering trailers are welcome to participate. Merchandise/artisan/craft vendors welcome to participate.
4. All vendors need to be self-sufficient, limited electrical access provided.
5. Non-refundable vendor registration fee due with application. All registrations will be reviewed but not guaranteed approval in order to minimize duplicate vendors. Only those registrations not approved will be refunded their application fee. Vendor fees will go toward advertising expenses. Should the event be cancelled due to poor weather, vendors can choose to apply their vendor fee to a future CAJUNDOME-produced vendor event.
6. Approved vendors will be notified within 1 week of their registration submission and will again be contacted the week of the event with event day logistics and any additional instructions and event information.
7. Registration Deadline: Floating, while spaces are available.The earlier the application is submitted, the more time we have to promote/advertise your participation.
Vendor Set-Up & Tear-Down
Vendor Set-Up Time: 2:00PM - 5:00PM on the day of the event. Set-Up must be complete by 5PM and face coverings must be worn starting at 4:45PM. Vendors are encouraged to decorate their booth space with white string lights. All unloading vehicles need to be moved to a designated parking area by 4PM.
Vendor Tear-Down: Approx. 8 PM
Non-Refundable* Vendor Fees
Food Truck/Catering Trailer: $30
Craft/Merchant/Other Booth Space (10'x10'): $25
(*Unless application is not approved)

Questions?
Contact us at (337) 265-2355
Please enter at CAJUNDOME Gate 8 from Congress Street and follow parking attendant instructions.
Food Truck Friday White Linen Night Participants
Food Vendors:
Aromas Cafe- Sandwiches, Hamburgers, Empanadas, French Fries, Fried Plantains, Mofongo Balls, Plantain Chips
AwwShucks- Chargrilled Crabs & Oysters (half dozen) Jacked Up, OG (Garlic Parmesan), Capone
Driskell's Original BBQ- Brisket and pulled pork sandwiches and nachos, brisket Chili, BBQ Sauces & Spices
Harrison Catering- Chili & Corn grits
Craft & Merchandise Vendors:
*Check Back for New Vendor Updates