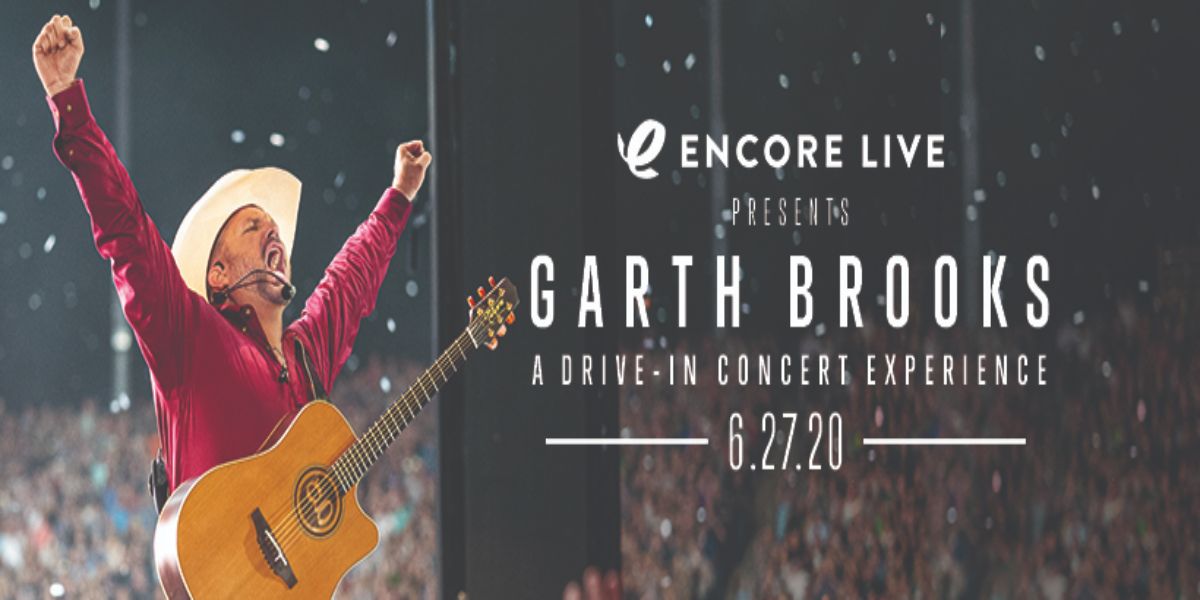 Garth Brooks: A Drive-In Concert Experience
Presented by Encore Live!
Garth Brooks: A Drive-In Concert Experience
Presented by Encore Live!
Event Details
Friends in low places? Nope. Garth Brooks wants his friends at the drive-in.
The reigning CMA Entertainer of the Year announced Thursday plans for a one-night drive-in concert event on June 27. Brooks and his band will broadcast the performance to an estimated 300 outdoor theaters in North America.
Brooks and company created the show exclusively for the theaters, a news release said. Tickets to the rain-or-shine event cost $100 per car and can be purchased June 19 at 11 A.M. CST via ticketmaster.com/garthbrooks.
The CAJUNDOME will host a pop-up drive-in theater at CAJUN FIELD with a show-time of 7:30PM.
Texas-based event company Encore Live produces the show. The concert, filmed exclusively for this event, will be a once-in-a-lifetime experience. The concert will be the largest ever one-night show to play at outdoor theaters across the United States and Canada.Each broadcast location will adhere to local health guidelines, a news release said. See below for more information.
Tickets are $100 per vehicle (must have legal seat belt for each passenger, up to 6 passengers.) No RVs or limousines.
Each ticket admits one standard passenger car or truck. (RVs and limousines not permitted.)
All guests must have a legal seatbelt. NO MORE THAN SIX people per vehicle, please.
Masks MUST be worn if you exit your vehicle at any time during the event.
No weapons, legal or illegal drugs allowed.
Parking is based on a first-come-first-serve basis. The show is expected to be full. Gates are scheduled to open an hour before showtime.
Theater staff reserves the right to move cars as needed.
Guests must follow theater speed limits, cones and marked lanes.
Advertised start time is approximate.
Sound will be broadcast through FM radio. You will receive this information at entry. Battery operated radios are allowed, and some Android devices that contain an FM receiver may be used in place of your car stereo.
Headlights must be turned off when facing the screen.
Guests must adhere to all theater rules and policies as well as state and local laws.
Children should not be left unattended.
Once a vehicle leaves the theater, no re-entry will be permitted.
Shows will go on rain or shine.
No refunds. In the event of severe weather, you will be contacted regarding a reschedule or a potential refund.
Guests and staff will adhere to current CDC and state/local guidelines regarding social distancing as it pertains to the following in order to prevent the spread of COVID-19:
Vehicle spacing
Entering/exiting your vehicle
Window guidelines
Staff will be screened for COVID in advance and wear proper PPE
Restroom management, guidelines and procedures
Prepare before you attend:
To limit car battery usage, bring a battery-operated radio to listen to the concert.
Have your hand sanitizer and mask(s) readily available.
Please support the CAJUNDOME and our local participating vendors by leaving outside food and beverage at home.
Concessions will be available for purchase including beverages, popcorn, Papa John's Pizza and Country Catering Food Truck.
Restroom facilities will also be located near concession tents.
Please maintain social distancing and follow line markings.
Fans will be instructed to enter at CAJUN FIELD Gate 5, located at CAJUNDOME Blvd. and Reinhardt Drive.
Fans will show their mobile ticket to the attendant at entry.
All guests must be inside the vehicle at entry, no walk-ups allowed.
Gate is scheduled to open at 6:30PM.
Masks & Social Distancing
Fans are encouraged to remain in their vehicle during the concert. Fans that exit their vehicle MUST wear a mask if they choose to sit outside within the confines of their parking spot or visit the concession or restrooms facilities while maintaining social distancing from neighboring vehicles & fans.
Sound will be streamed through your vehicle's radio, in which you will be given the station number upon entry. You may also bring a battery operated radio. All volume levels will be monitored by staff and fans must comply with any directives to lower the radio volume or they may be asked to leave without refund.
Masks must be worn while visiting restroom facilities and concessions and fans should follow all distancing markings in place while waiting in any lines.
Coming from out of town? Book a room at the Hilton Garden Inn, located across the street from the CAJUNDOME.