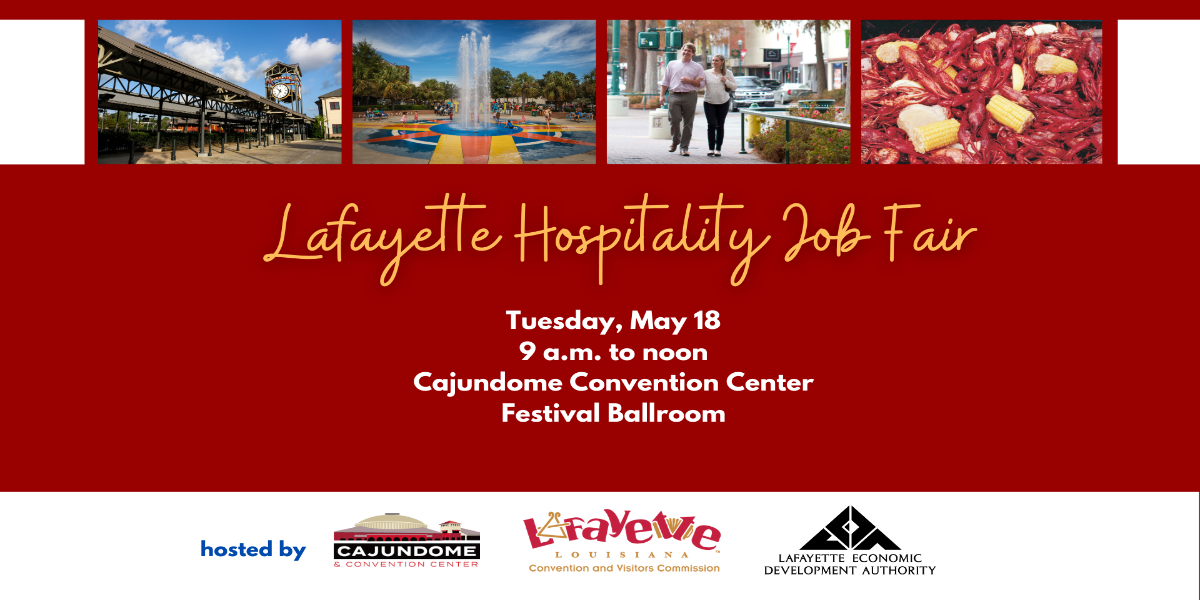 Lafayette Hospitality Job Fair
Lafayette Hospitality Job Fair
Event Details
Lafayette Hospitality Job Fair
Tuesday, May 18th
9 AM to 12 PM
CAJUNDOME Convention Center
In response to growing industry need, the Lafayette Economic Development Authority, the Lafayette Convention and Visitors Commission, and the Cajundome will host the Lafayette Hospitality Job Fair on Tuesday, May 18. The event will take place 9:00 a.m. to noon at the Cajundome Convention Center, 444 Cajundome Blvd.
"It is encouraging that the hospitality sector is beginning to rebound after being the hardest hit by the COVID-19 pandemic," said Ben Berthelot, President and CEO of the Lafayette Convention and Visitors Commission. "We are pleased to partner with LEDA and the Cajundome to be a part of the solution to finding workers for this important piece of our economy."
Job seekers will be able to meet with hiring managers from a variety of local businesses that are currently hiring for openings in food service, production staff, maintenance, management, housekeeping, guest services, and more.
"After this past year, we feel like we can finally see some light at the end of tunnel," said Casey White, CAJUNDOME Marketing Director. "We look forward to this new event partnership and are excited to recruit employees alongside our fellow industry colleagues as the demand for events and tourism rebounds in Acadiana."
The event will align with social distancing guidelines including larger booths and larger aisles. Personal protective equipment will be made available to recruiters and job seekers.
Pre-registration is not required for the event. A current list of participating employers is available at www.lafayette.org/jobfairs.
There is no cost for employers to have a recruitment table; however, availability is limited and registration is required to reserve a table.
Registration is free; however, job seekers should register in advance for the event.
Antoni's Italian Cafe - line cook, assistant manager, bartender, server, busser/ runner
Burger Smith - bartender, host, server, fry cook, grill cook, make/ pantry cook, manager
CAJUNDOME - production coordinators and staff, maintenance coordinators and staff, grounds maintenance staff, box office ticket sellers, guest services staff, catering manager, digital marketing manager
Discovery Inn & Suites - front desk clerk, housekeeping, maintenance
DoubleTree Lafayette by Hilton - servers, shuttle driver, restaurant cashier-host-servers, housekeepers, engineer
Drury Inn and Suites - housekeepers, food and beverage
Extended Stay America - housekeeping, guest service representatives, maintenance engineer
Fezzo's Seafood, Steakhouse, & Oyster Bar - all positions - waiter/waitress, host/ hostess, management, bartender, cook, dishwasher, busboy, cashier
Hampton Inn (Scott, LA) - housekeeping, front desk, maintenance, management
Holiday Inn Express & Suites - guest service agents (full-time), manager in training (full-time), maintenance (part-time)
Homewood Suites & Home 2 Suites Lafayette - room attendants, houseman, maintenance, comp service attendant
Johnson's Boucaniere - kitchen prep, dishwasher
La Quinta Inn by Wyndham Lafayette North (SSRP Investments 2 LLC) - housekeeping, laundry, front desk
LBA Hospitality (Springhill Suites by Marriott at River Ranch & Hilton Garden Inn) - housekeeping, maintenance/ houseman, front desk, restaurant servers
MacLaff, Inc - crew, shift leaders, department managers
Petroleum Club of Lafayette - server, banquet server, cook, dishwasher, bartender
Sonic - crew members, shift managers, assistant managers, store managers
Toot Toot's Kitchen - food prep, cook, server, dishwasher
Tula Tacos & Amigos - host, server, bartender, kitchen staff
Thank you to our supporting community organizations:
Louisiana Workforce Commission
South Louisiana Community College
University of Louisiana at Lafayette
LDH will host a COVID vaccination event in conjunction with the Hospitality Job Fair. Participants and the public are welcome to receive the COVD vaccination shot free of charge between 9 AM - 12 PM.