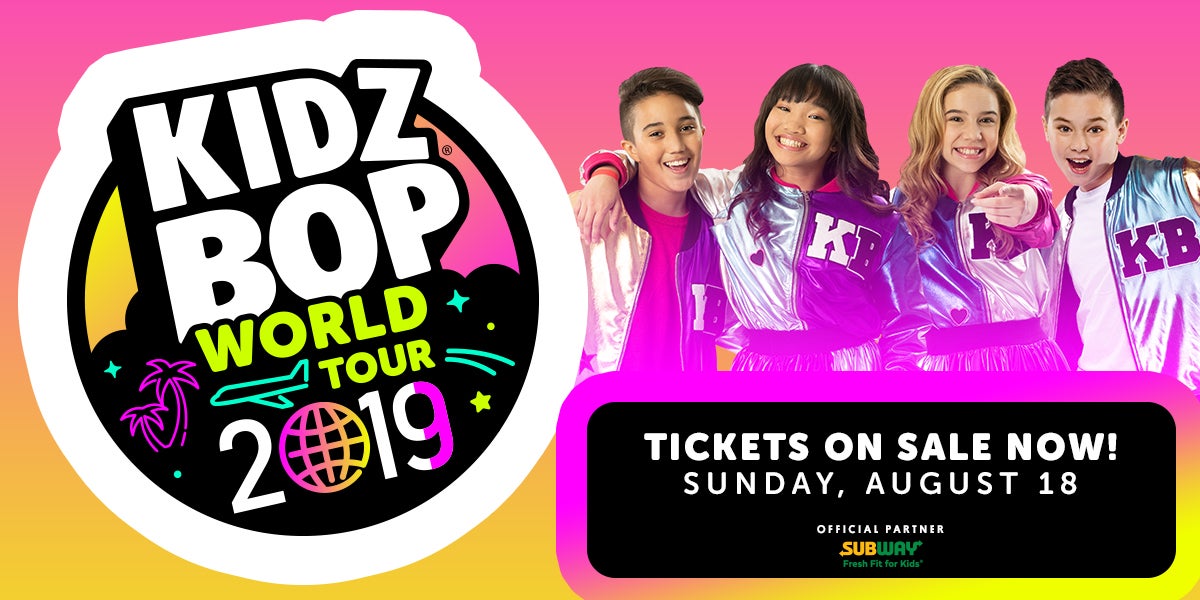 KIDZ BOP WORLD TOUR
KIDZ BOP WORLD TOUR
Event Details
KIDZ BOP, the #1 music brand for kids announced the global expansion of the KIDZ BOP live tour phenomenon with the launch of an all-new show for 2019 -- KIDZ BOP World Tour 2019. The KIDZ BOP Kids will perform in Australia, Germany, London, Mexico, and more, in addition to playing to 50+ cities across the U.S. and Canada.
Subway Fresh Fit for Kids® is an official partner of the KIDZ BOP World Tour 2019 in North America, and a leader in offering on-the-go families balanced, customizable meals, and better-for-you kids' meals.
The brand-new show is an interactive experience for the whole family. The KIDZ BOP Kids will be performing some of today's biggest hits "sung by kids for kids," with engaging new set design, exciting choreography, and more.
About KIDZ BOP
KIDZ BOP connects with kids and families through its best-selling albums, music videos, consumer products and live tours. In the U.S., KIDZ BOP is the No. 1 music brand for kids, featuring today's biggest hits "sung by kids for kids." KIDZ BOP has sold over 20 million albums and generated over 2.7 billion streams since the family-friendly music brand debuted in 2001. The best-selling series has had 24 Top 10 debuts on the Billboard 200 Chart; only three artists in history—The Beatles, The Rolling Stones, and Barbra Streisand—have had more Top 10 albums. For more information, visit www.kidzbop.com.
$87.25*, $46.00* & $35.75*
*Facility fee & sales tax included in the above stated ticket prices. Additional Fees will be applied when purchasing online through Ticketmaster.