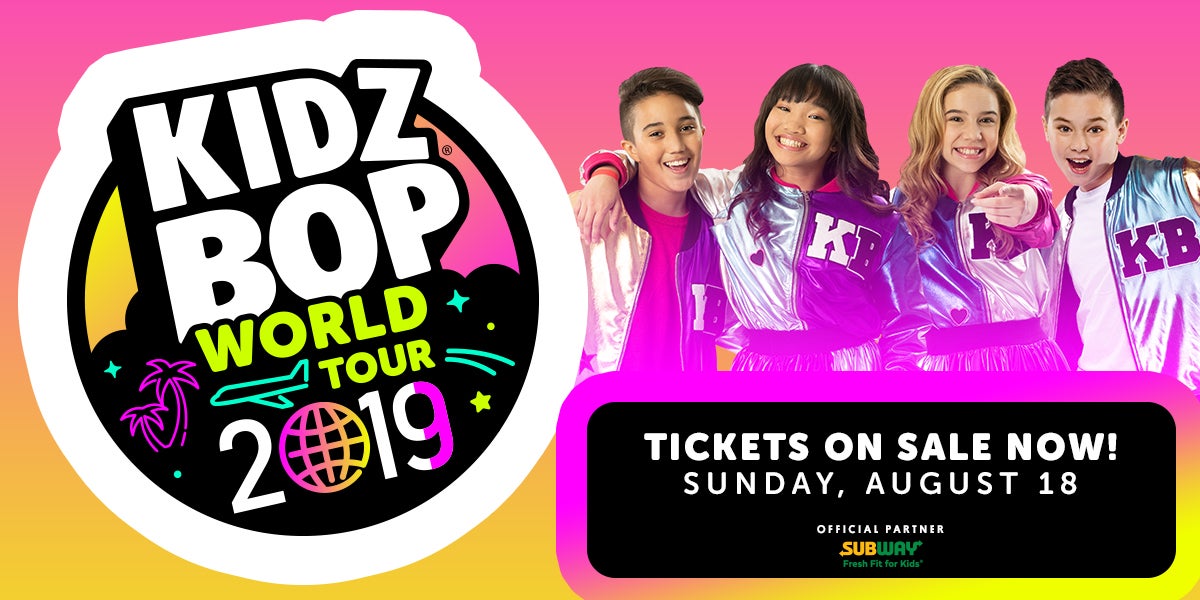 KIDZ BOP WORLD TOUR
KIDZ BOP WORLD TOUR
Event Details
KIDZ BOP, the #1 music brand for kids announced the global expansion of the KIDZ BOP live tour phenomenon with the launch of an all-new show for 2019 -- KIDZ BOP World Tour 2019. The KIDZ BOP Kids will perform in Australia, Germany, London, Mexico, and more, in addition to playing to 50+ cities across the U.S. and Canada.
Subway Fresh Fit for Kids® is an official partner of the KIDZ BOP World Tour 2019 in North America, and a leader in offering on-the-go families balanced, customizable meals, and better-for-you kids' meals.
The brand-new show is an interactive experience for the whole family. The KIDZ BOP Kids will be performing some of today's biggest hits "sung by kids for kids," with engaging new set design, exciting choreography, and more.
About KIDZ BOP
KIDZ BOP connects with kids and families through its best-selling albums, music videos, consumer products and live tours. In the U.S., KIDZ BOP is the No. 1 music brand for kids, featuring today's biggest hits "sung by kids for kids." KIDZ BOP has sold over 20 million albums and generated over 2.7 billion streams since the family-friendly music brand debuted in 2001. The best-selling series has had 24 Top 10 debuts on the Billboard 200 Chart; only three artists in history—The Beatles, The Rolling Stones, and Barbra Streisand—have had more Top 10 albums.
$87.25*, $46.00* & $35.75*
*Facility fee & sales tax included in the above stated ticket prices. Additional Fees will be applied when purchasing online through Ticketmaster.
While SUPPLIES LAST recieve a FREE box of school suplies when you purchase 4 KIDZ BOP WORLD TOUR tickets.
KIDZ BOP 2019 - CONCERT KNOW BEFORE YOU GO
PARKING: Free public parking at Gate 8 & Cajun Field. Handicap parking at Gate 12. Drop-offs & ride share, please access Cajun Field lot and use pedestrian tunnel.
BAG POLICY: ALL bags subject to search - NO large or oversized bags permitted.
CONCERT ENTRY: Please follow all signage for the correct entry location. Express entry lanes will be available for patrons without bags or purses. Concessions & tour merchandise will be available in the main south lobby.
COCA-COLA CONCERT CORNER: Join us outside the CAJUNDOME from 2pm-4pm for entertainment, ticket upgrade giveaways, games, food & drinks, and more! Special appearance & meet and greet with ALYCAT of the ALYCAT book series. Brought to you by the CAJUNDOME, COCA-COLA & Townsquare.
THE CAJUNDOME INTRODUCES THE
COCA COLA CONCERT CORNER
PRESENTED BY COCA COLA & TOWNSQUARE MEDIA
Fall is heating up with concerts and the CAJUNDOME is encouraging you to get here early, stroll through the Coca Cola Concert Corner and Share a Coke with a friend! The Concert Corner makes its debut this SUNDAY, AUGUST 18, 2019, starting at 2:00PM prior to the KIDZ BOP WORLD TOUR 2019.
This week's concert corner will feature music entertainment courtesy of Townsquare Media, backyard games, Coca Cola sampling and giveaways and more! Don't miss a special appearance and meet and greet with Alycat of the award winning Alycat book series, free kid-friendly activities and giveaways by Mix It Up, The Little Gym, The Music Box and more!
The Coca Cola Concert Corner will take place prior to the following fall concert events:
Aug 18 KIDZ BOP
Aug 30 Chris Stapleton
Sept 3 Backstreet Boys
Sept 5 Chris Young
Sept 22 Carrie Underwood
Oct 3 Miranda Lambert
Oct 5 HEART
For information on all of our upcoming events, visit WWW.CAJUNDOME.COM. Join the CAJUNDOME Insiders for more event information and pre-sale code access!
Tickets to all upcoming events are available at the CAJUNDOME Box Office & online at Ticketmaster.com.