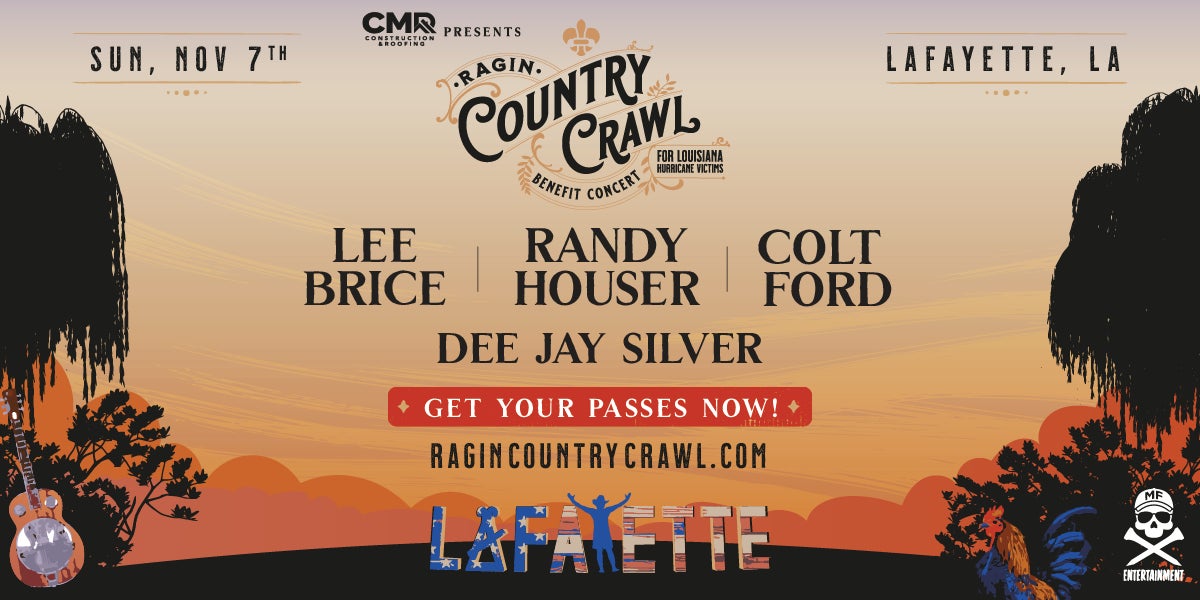 RAGIN' COUNTRY CRAWL
FT. LEE BRICE, RANDY HOUSER & COLT FORD
RAGIN' COUNTRY CRAWL
FT. LEE BRICE, RANDY HOUSER & COLT FORD
Event Details
LEE BRICE HEADLINES LOUISIANA HURRICANE RELIEF BENEFIT CONCERT RAGIN COUNTRY CRAWL
Star-Studded Country Music Lineup of Randy Houser, Colt Ford, and Dee Jay Silver Will Join Brice On November 7, 2021 at The CAJUNDOME in Lafayette, Louisiana
LAFAYETTE, La. (September 24, 2021) – CMR Construction & Roofing, one of the nation's leading roofing and repair companies, will welcome country music fans to the CAJUNDOME on November 7, 2021, for Ragin Country Crawl, a one-night benefit concert to raise money for hurricane relief efforts in Louisiana. Country music powerhouse Lee Brice will headline the benefit concert that will also feature performances from ACM and CMA Award-nominated artist Randy Houser, country rapper Colt Ford, and popular country disc jockey Dee Jay Silver.
Proceeds from the concert will be directed to disaster relief efforts for victims of recent hurricanes that have impacted Southern Louisiana. Local leaders on the frontlines of the recovery effort will be enlisted to ensure that proceeds benefit those most in need. The event is presented by CMR Construction & Roofing and produced by Mike Flaskey Entertainment.
"It's a great honor for me personally to come out and play a small role in helping out the proud, resilient people of Louisiana," said Brice. "Country music has a special power to unite and uplift, and I look forward to taking the stage and inspiring fans to take action and lend a helping hand to families and communities facing a long road to recovery."
"Our company was founded on the idea of helping people find a way back to their normal lives after facing unthinkable disasters," said CMR Construction & Roofing CEO Steve Soule. "Ragin Country Crawl will be a perfect opportunity for the country music community to turn one special evening into much-needed support for families and businesses across the region."
Additional Fees will be applied when purchasing online through Ticketmaster.
Prices are subject to change.
VIP Packages are available for the Ragin' Country Crawl!
Packages include:
Early entry into the arena lobby before doors open to the public
Crowd-Free Merchandise Shopping Opportunity before doors are opened to the public, on the concourse level
Access to VIP Party (Meeting Room) before show w/2 drink tickets
One (1) commemorative signed Ragin Country Crawl poster
One (1) commemorative Ragin Country Crawl VIP show laminate
One (1) commemorative Ragin Country Crawl merchandise item
Drawstring Bag
Step and Repeat Banner with sponsor artwork
Photographer for guest pics with specified artist
To Purchase a Lee Brice VIP Package, visit Lee Brice VIP
To Purchase a Randy Houser VIP Package, visit Randy Houser VIP
To Purchase a Colt Ford VIP Package, visit Colt Ford VIP
VIP Check-In for all packages is at 2:45 PM at the CAJUNDOME's Table Room entrance on Sunday, November 7th. Remidner: clear bag policy in effect.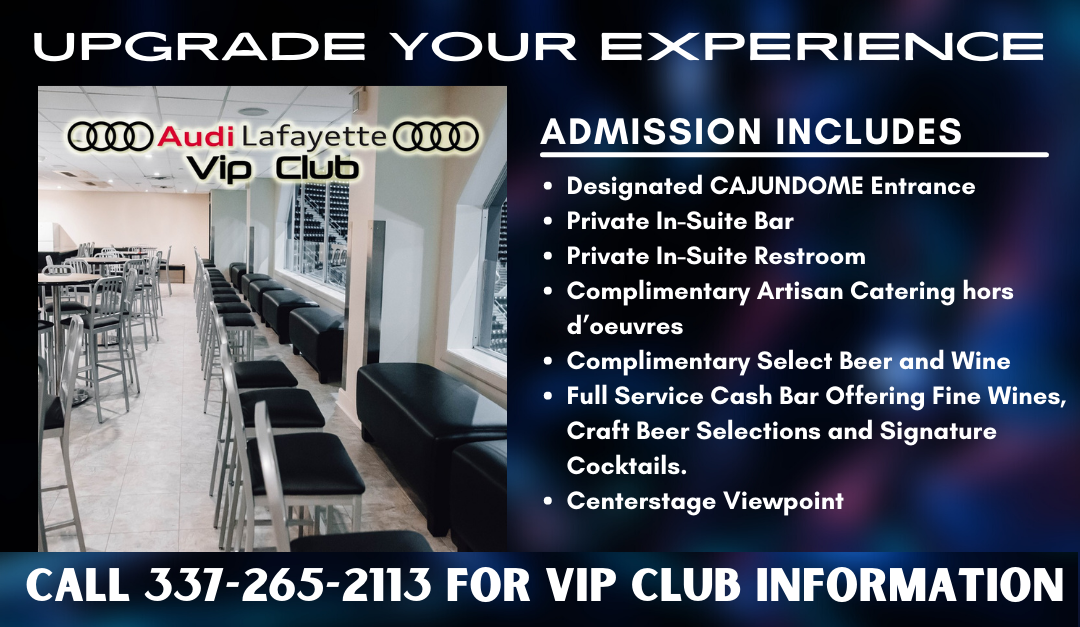 Luxury accommodations and private access are available!
Audi Lafayette VIP Club provides you with a spectacular view and select hors d'oeuvres and beverages before and during the show. This exclusive experience is limited so make sure to reserve a spot for you and your friends today!
For more information or to purchase your tickets, call 337-265-2113.
* No refunds or exchanges.
Experience a CAJUNDOME event from the comfort of a luxury suite. These newly renovated luxury suites can accommodate anywhere from 16 - 100 guests and include some of the finest amenities available. While the view from the suites will be one to remember, the real memories come from those extra perks that make these suites the premier showplace for entertaining. Rest assured that whomever your guest may be, the level of entertainment and service will be second to none.
Please contact the Box Office Manager at 337-265-2113 for more information.
Tickets to event (depending on suite capacity)
VIP Entry
VIP parking spaces
Private restroom
Dedicated suite attendants
Upscale furnishings with a great view overlooking the arena
TV monitor linked to the in-house channel (cable ready)
Wet bar with sink, ice bin and refrigerator (not available in all suites)
Cabinets for storage
Independent climate control
Private and secure environment
Upscale catering service available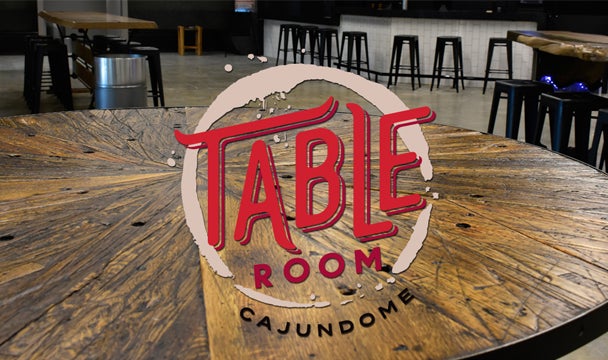 The Table Room is a brand new venue space that will provide an additional entertainment space featuring full bar service including beer, specialty cocktails and premium wine selections. The Table Room provides an opportunity for concert and event patrons to arrive early and socialize with friends, family and other guests.
NEW CLEAR BAG POLICY FOR CAJUNDOME & CONVENTION CENTER EVENTS
The policy, which is part of a growing trend at venues across the country, will start March 1, 2020.
Each ticket holder, including children, may carry one approved clear bag, such as a one-gallon clear storage bag or clear purse no larger than 12" x 12" x 6". The following bags will be permitted inside the CAJUNDOME & Convention Center and are subject to search.
Gallon size clear plastic storage bag.
Clear bag equal to or smaller than 12" x 12" x 6"
A clutch or purse smaller than 6.5" x 4.5"
Equipment bag for necessary medical items.
Diaper bag for age-appropriate children accompanied by an adult.
Prohibited bags include, but are not limited to: large purses, duffle bags, coolers, briefcases, backpacks, fanny packs, mesh bags, or any bag larger than the permissible sizes mentioned above. Tinted or printed-pattern plastic bags are not clear, so they will not be permitted.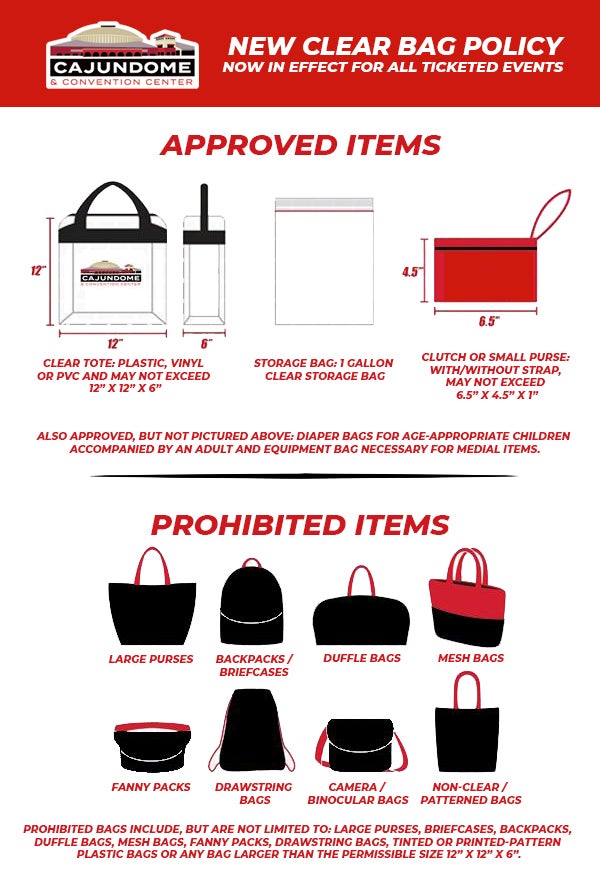 Face Coverings: Recommended while indoors.
Fans are not required to show proof of vaccination or negative test at this time.
Clear Bag Policy in Effect.
Please practice proper sanitization & hand washing practices, and maintain 6 foot social distancing when possible in common or lobby areas.
By accepting a ticket and using it for entry or resale/other, you are acknowledging that an inherent risk of exposure to COVID-19 exists in any public place where people are or have been present and that the CAJUNDOME cannot ensure that its premises are risk-free.
By attending the Event, you and any guests voluntarily assume all risks related to exposure to COVID-19 (coronavirus), and agree not to hold the Lafayette City-Parish Consolidated Government, its officials, employees and volunteers, the CAJUNDOME Commission and The University of Louisiana at Lafayette for any illness or injury in connection with your or your guests, attendance at the Event.
You assume all risks, hazards, and dangers arising from or relating in any way to the risk of contracting a communicable disease or illness—including, without limitation, exposure to COVID-19 or any other bacteria, virus, or other pathogen capable of causing a communicable disease or illness, whether that exposure occurs before, during, or after the event, and regardless of how caused or contracted—and you hereby waive any and all claims and potential claims against Ticketmaster, Live Nation, and the Event Organizer MF Entertainment— and against any companies affiliated with Ticketmaster, Live Nation, or the Event Organizer /Promoter MF Entertainment— relating to such risks, hazards, and dangers.