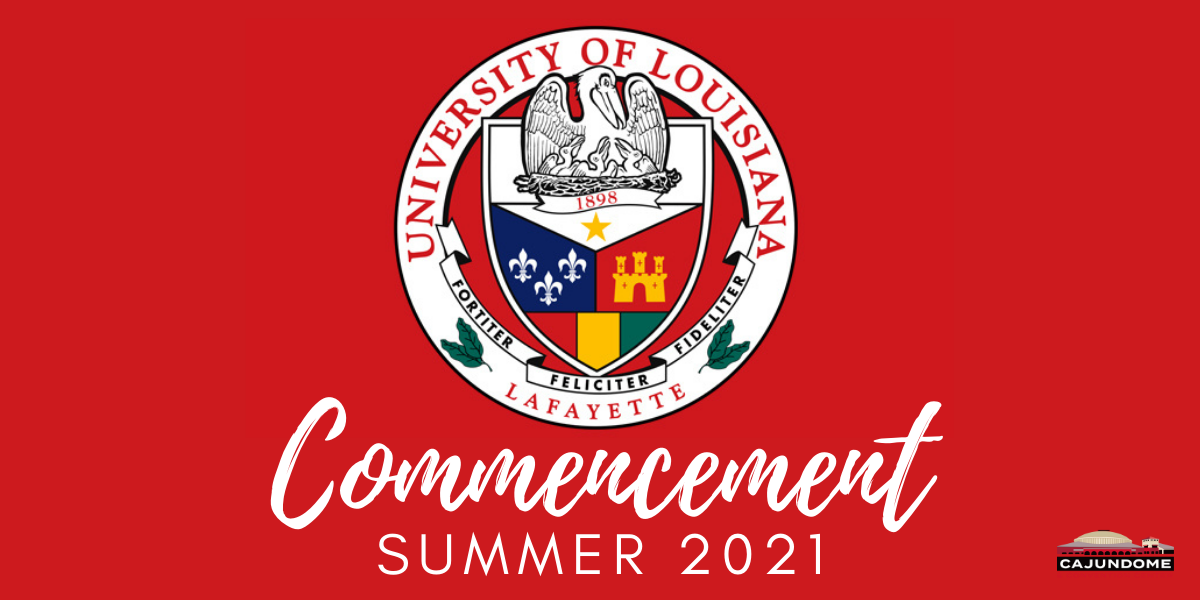 UL Summer 2021 Commencement
University of Louisiana Lafayette
UL Summer 2021 Commencement
University of Louisiana Lafayette
Event Details
Congratulations to all Summer 2021 University of Louisiana at Lafayette Graduates! Commencement is an exciting, and sometimes hectic day! Whether you are participating in the ceremony or cheering your graduate on, there's a chance you'll have questions about where to go and what to do. We invite you, your friends, your family, and members of the community, so make sure to prepare and share the appropriate information with your family and guest to ensure that the final celebration is one you will cherish for a lifetime!
All graduates (Doctorate, Master's and Bachelor's Degree) are required to attend the ceremony in full regalia. ALL degree candidates will be conferred at the Ceremony.
Because Louisiana has loosened restrictions surrounding COVID-19, the capacity for the Summer 2021 ceremony is at 100% and tickets are no longer required.
Attendees must wear masks. Masks will be enforced for all graduates and guests.
University Police will examine the contents of all purses, bags, packages, etc. of persons entering the venues.
*NEW* Please note that a clear bag policy is being enforced.
Allowed: Small purse, with or without a strap, may not exceed 6.5" x 4.5" x 1"
Also approved: diaper bag for age-appropriate children and equipment bag for medical items
Binoculars allowed, however, its bag must meet size guidelines above or be in a clear bag
DO NOT BRING: large purses, bags, backpacks, wrapped gifts or items that could block the view of others (i.e. large balloon, signs, etc.).
Face Coverings & Social Distancing
We will follow all current University policies, and as such, will require face coverings for all participants and guests attending commencement. Please maintain 6 foot social distancing throughout the venue.
Live Stream UL Summer 2021 Commencement Ceremony
Don't miss out on one of the biggest moments of your loved ones life! For those unable to attend the Commencement Ceremony we now offer Live Streaming via Vimeo Services. Please click below to view the ceremony live stream.
Order a Digital Copy of the Summer 2021 Commencement Ceremony
You will soon be on your way to a bright and successful future and graduation day will be filled with milestone memories that will be treasured for a lifetime.
During your graduation, the CAJUNDOME video staff will be recording the entire event and you will be part of this memorable documentary. A digital copy of your very special day will be available to you to purchase. Don't miss this opportunity to purchase your graduation video.
The memory of this event will last forever; but, as the years go by, the visual image will fade if not for this priceless record of your special moment in history. Act now, and order today! What a wonderful gift for parents or relatives. What a tremendous keepsake for you to always look back on with pride.
We have made the ordering process simple and easy online with Vimeo Services. For any questions regarding ordering your Graduation Video please contact (337-265-2355).
Congratulations to all of the 2021 Graduates; Good Luck in the Future!
By accepting a ticket and using it for entry or resale/other, you are acknowledging that an inherent risk of exposure to COVID-19 exists in any public place where people are or have been present and that the CAJUNDOME cannot ensure that its premises are risk-free.
By attending the Event, you and any guests voluntarily assume all risks related to exposure to COVID-19 (coronavirus), and agree not to hold the Lafayette City-Parish Consolidated Government, its officials, employees and volunteers, the CAJUNDOME Commission and The University of Louisiana at Lafayette for any illness or injury in connection with your or your guests, attendance at the Event.
You assume all risks, hazards, and dangers arising from or relating in any way to the risk of contracting a communicable disease or illness—including, without limitation, exposure to COVID-19 or any other bacteria, virus, or other pathogen capable of causing a communicable disease or illness, whether that exposure occurs before, during, or after the event, and regardless of how caused or contracted—and you hereby waive any and all claims and potential claims against Ticketmaster, Live Nation, and the Event Organizer — and against any companies affiliated with Ticketmaster, Live Nation, or the Event Organizer / Promoter— relating to such risks, hazards, and dangers.