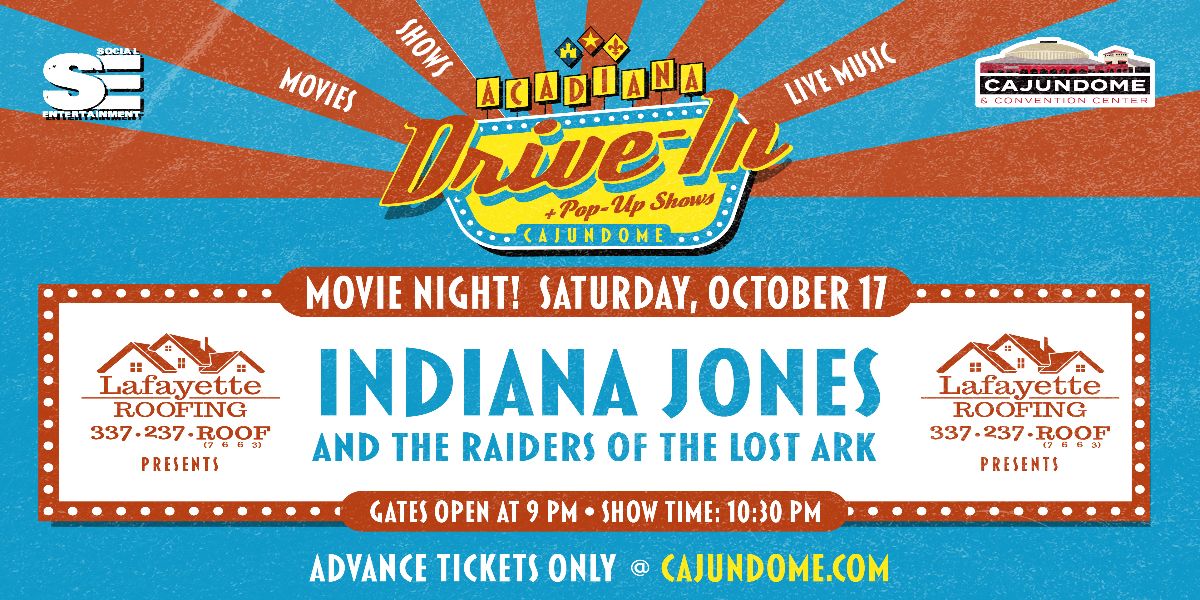 The Acadiana Drive-In: Raiders of the Lost Ark
Brought to you by Lafayette Roofing, CAJUNDOME & Social Entertainment
The Acadiana Drive-In: Raiders of the Lost Ark
Brought to you by Lafayette Roofing, CAJUNDOME & Social Entertainment
Event Details
The Acadiana Drive-In is popping up this fall - don't miss family-friendly cinema and live entertainment, all from the safety of your vehicle. All tickets include an additional parking spot next to your vehicle to allow for additional social distancing.
Join us for our second big screen movie event featuring Indiana Jones in "Raiders of the Lost Ark!"
Gates open at 9PM, movie showing starts at 10:30PM. No arrivals after 10:30PM permitted.
Face coverings required when outside of vehicle. Restrooms and self-serve hand sanitizer stations will be available in addition to concessions available for purchase from local vendor Reggie's Soulfood & Catering.
For all upcoming Acadiana Drive-In announcements and line-ups, follow Acadiana Drive-In on Facebook.
This show was originally scheduled for Sept. 18. Previously purchased tickets will remain valid for the new date.
One ticket per vehicle, number of passengers limited to the number of legal seatbelts inside the vehicle.
Tickets Now On Sale
This is a Mobile Ticket Entry Event. No paper copies necessary.
Tickets available in advance and online at Ticketmaster.com only.
No Refunds available, this is a rain or shine event. In the event of a reschedule, previously purchased tickets will remain valid for the new date.
This is a family-friendly event. Radio volume levels should be kept a reasonable level, please be respectful of neighboring vehicles and monitor your volume level.
Purchase a Single Event Ticket
Purchase a Single Event Ticket
WHAT's THE DEAL WITH TICKET PRICES?
Ticket price is per vehicle, not per individual. Each reserved parking spot includes a tailgate spot next to the vehicle for patrons who wish to sit outside.
DO I NEED TO PRINT MY TICKET?
This is a Mobile Ticket Entry Event, no paper copies necessary.
WHERE CAN I BUY MY TICKET?
Tickets available online and in advance only at CAJUNDOME.com
WHAT DOES MY TICKET INCLUDE?
Ticket purchase is valid for a reserved parking space and tailgate space next to your vehicle. Passengers are limited to the number of legal seat belts inside the vehicle. Patrons must arrive with their entire party in their vehicle, as there will be no will call available.
DO I HAVE TO WEAR A MASK?
In accordance with the State's mandatory face covering mandate, face coverings are required for entry into the event and must be worn whenever patrons are outside of their reserved parking or tailgating spots, such as when walking restroom or concession facilities. Food & beverage deliveries to your vehicle may available through mobile ordering services and delivered by CAJUNDOME staff in proper protective equipment.
WHERE CAN I PARK?
You will be directed to a parking spot upon entry.
CAN I BRING IN MY OWN FOOD & DRINKS?
No outside food or beverage permitted. Please visit the CONCESSIONS tab on this page for advance food & beverage order information. Food and beverages will be available for purchase in advance and on-site via mobile ordering and delivery by venue staff.
CAN I BRING TAILGATE SUPPLIES?
No umbrellas, tents or other items that may restrict the view of other patrons permitted. Small battery operated fans permitted.
CAN I GET A REFUND?
No refunds available. This is an outdoor event. In the event of inclement weather, the venue may announce a reschedule date or move the show indoors if permitted to do so. In the event of a reschedule, previously purchased tickets will remain valid for the new date.
WHAT TIME CAN I ARRIVE?
Venue Gates are scheduled to open at 5:00PM (subject to change).
IS TAILGATING PERMITTED?
Tailgating in your designated parking spot is allowed. No cooking is allowed in tailgate spaces.
ARE POP-UP TENTS ALLOWED?
Tents, stand umbrellas and tarps are not permitted at any time during the event by guests.
ARE CHAIRS AND BLANKETS ALLOWED?
Yes, you may bring in lightweight portable chairs and blankets. All items will be subject to search.
ARE RESTROOMS & CONCESSIONS AVAILABLE?
Restrooms will be available for use and guests who need to use the facilities must follow social distancing restrictions and instructional signs. Guests must wear a protective mask/face covering when leaving their designated space to utilize the restroom area. Handicap restrooms will be available, and all restrooms will be monitored by a housekeeping attendant to ensure surfaces are cleaned frequently. A limited number of concessions stands will be available throughout the venue. Signage on site will direct you to their location, along with available menus. Guests must wear a mask/face covering when traveling to and from concessions areas and must follow social distancing restrictions. We kindly ask that all guests utilize the trash container nearest their pod when exiting the venue.
WHAT FORM OF PAYMENT IS ACCEPTED AT THE EVENT?
Credit Card/Debit Card and cash payments will be accepted. We strongly encourage everyone to use credit card/debit card payments whenever possible.
WHAT HAPPENS IF IT RAINS?
The events are designated as rain or shine, however, your safety is our priority. In the event of inclement weather, event management may decide to delay the performance or make necessary arrangements to keep you, the talent and our staff safe. Important updates will be communicated through each venue and promoter's social media platforms.
CAN I BRING MY CAMERA?
Only standard point-and-shoot cameras will be permitted. Cameras with detachable lenses, Go-Pros, or any other professional audio, video, or digital recording devices are prohibited. NO VIDEO RECORDING IS PERMITTED.
CAN CHILDREN ATTEND?
This is an all ages event. Anyone under the age of 18 MUST be accompanied by an adult and all patrons must be accounted for in the ticket purchase, regardless of age. All children over the age of 8 must wear a face covering if leaving the designated parking space and will be required to stay inside their parking and/or tailgate space at all times unless using the restrooms or concessions areas. Social distancing will be strictly enforced, no matter the age range, to keep everyone safe.
DO I HAVE TO LISTEN ON MY CAR STEREO?
Sound will be broadcast through a local FM station that you can tune into via your car stereo or a small battery operated radio, should you choose to bring one.
CAN I LEAVE AND COME BACK?
Re-entry is not permitted. Guests leaving the venue after their event ticket has been scanned will be subject to purchasing a new event ticket and will lose their original parking space.
HOW LONG ARE THE EVENTS?
The run time of each show is approximately 1.5 hours.
WHAT IS PROHIBITED AT THE EVENT?
The following items are prohibited inside the venues:
Advertising, selling or promoting any third-party product (including, but not limited to, food and beverage items)
Amplified sound systems (small portable speakers and car stereo systems are ok, but more not interfere with other guests experience.
Outside food and beverages
Disorderly conduct
Fireworks
Generators
Grills or fryers
Kerosene lamps or open flames of any kind
Laser pointers
Littering
Nitrous tanks
Noisemakers
Tents, stand umbrellas and tarps
Use of drones
Wagons and strollers
Knives or Weapons of any kind
Please note that failure to follow these guidelines may result in ejection from the event.merchandise for purchase.
WHAT SECURITY MEASURES ARE BEING TAKEN?
The shows will be staffed with local police officers and private (t-shirt) security guards, just like you would see at a normal concert or event. They will be patrolling all areas inside the venue to ensure that social distancing practices are in place and fans are not congregating in large groups.
ARE PETS ALLOWED?
While we LOVE pets of all kinds, they are not permitted at these events. Certified support animals are welcome with documentation.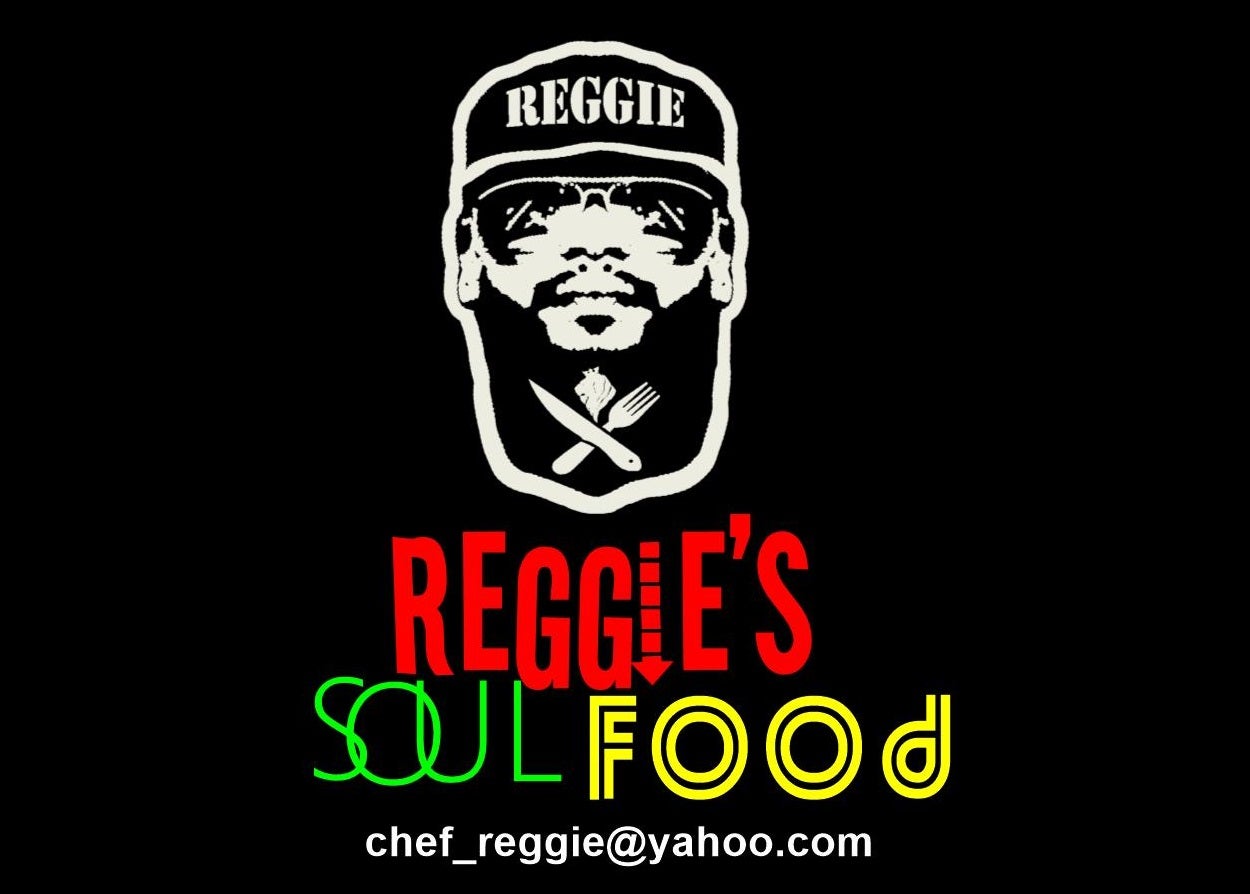 Concessions will be available for purchase on-site featuring downtown Lafayette's Reggie's Soulfood & Catering. Sorry, no additional outside vendors are accepted at this time.
Fans who wish to bring in their own food and beverage may do so by purchasing a cooler pass for $20.
Face Coverings & Social Distancing
The Acadiana Drive-In will follow all current state guidelines regarding COVID-19.
All CDC, along with State and Local Health guidelines will be followed, and we are working closely with local and state agencies to ensure that these events meet or exceed all recommended standards.
A face covering MUST be worn at all times if leaving your designated parking space, including traveling to and from restrooms, concessions and merchandise areas.
If the above polices are not adhered to, you will be asked to leave the show with NO REFUND.
Event staff will be wearing personal protective equipment as required by CDC guidelines.
Policies are subject to change pending any changes in CDC and State guidelines.
COVID-19 ACKNOWLEDGEMENT
We have taken enhanced health and safety measures—for you, our other guests and staff members. You must follow all posted instructions while attending The Acadiana Drive-In. An inherent risk of exposure to COVID-19 exists in any public place where people are present. By attending The Acadiana Drive-In, you and any guests voluntarily assume all risks related to exposure to COVID-19 and agree to not hold the CAJUNDOME, Social Entertainment, or any of their affiliates, directors, employees, agents, contractors, or volunteers liable for any illness or injury.
Help keep each other healthy.
Sponsorship Opportunities
Additional Sponsorship Opportunities Available
Please Contact Maaike for more information:
Email: [email protected]