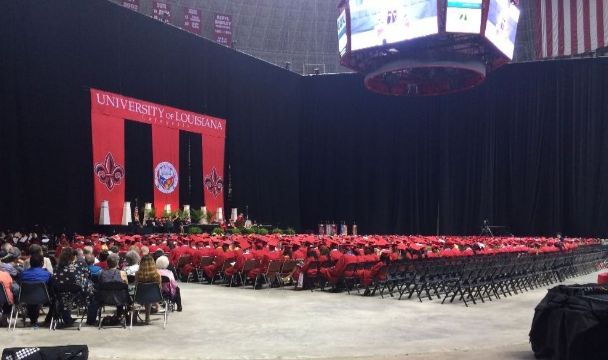 UL Spring 2022 Commencement
CAJUNDOME & CONVENTION CENTER
UL Spring 2022 Commencement
CAJUNDOME & CONVENTION CENTER
Event Details
SPRING 2022
Commencement Ceremony Schedule
| College | Date | Time | Location |
| --- | --- | --- | --- |
| Ray P. Authement College of Sciences | Friday, May 13 | 9:00 AM | Cajundome |
| College of Education | Friday, May 13 | 9:00 AM | Cajundome Convention Center |
| B.I. Moody III College of Business Administration | Friday, May 13 | 12:30 PM | Cajundome |
| College of Nursing & Allied Health Professions | Friday, May 13 | 12:30 PM | Cajundome Convention Center |
| Graduate School | Friday, May 13 | 4:00 PM | Cajundome |
| College | Date | Time | Location |
| --- | --- | --- | --- |
| College of Engineering | Saturday, May 14 | 9:00 AM | Cajundome |
| College of the Arts | Saturday, May 14 | 9:00 AM | Cajundome Convention Center |
| College of Liberal Arts | Saturday, May 14 | 12:30 PM | Cajundome |
| University College | Saturday, May 14 | 12:30 PM | Cajundome Convention Center |
Bachelor's graduates will attend their individual college ceremony. Doctorate and Master's will attend the Graduate School ceremony.
All graduates (Doctorate, Master's and Bachelor's Degree) attend their college ceremony in full regalia.
Tickets are not required by guests to attend the ceremonies.
Clear Bag Policy In Effect
For those guests in attendance, a strict clear bag policy will be in effect.

Permitted Bags Include:
Clear bag equal to or less than 12" x 12" x 6," for example a clear tote bag or zip lock bag
Clear or non-clear small purse or clutch smaller than 4.5" x 6.5" x 1"
Diaper bags with age-apprpriate children
Medical bag
All bags subject to search
Ray P. Authement School of Sciences
B.I. Moody III College of Business Administration
College of Nursing & Allied Health Professions