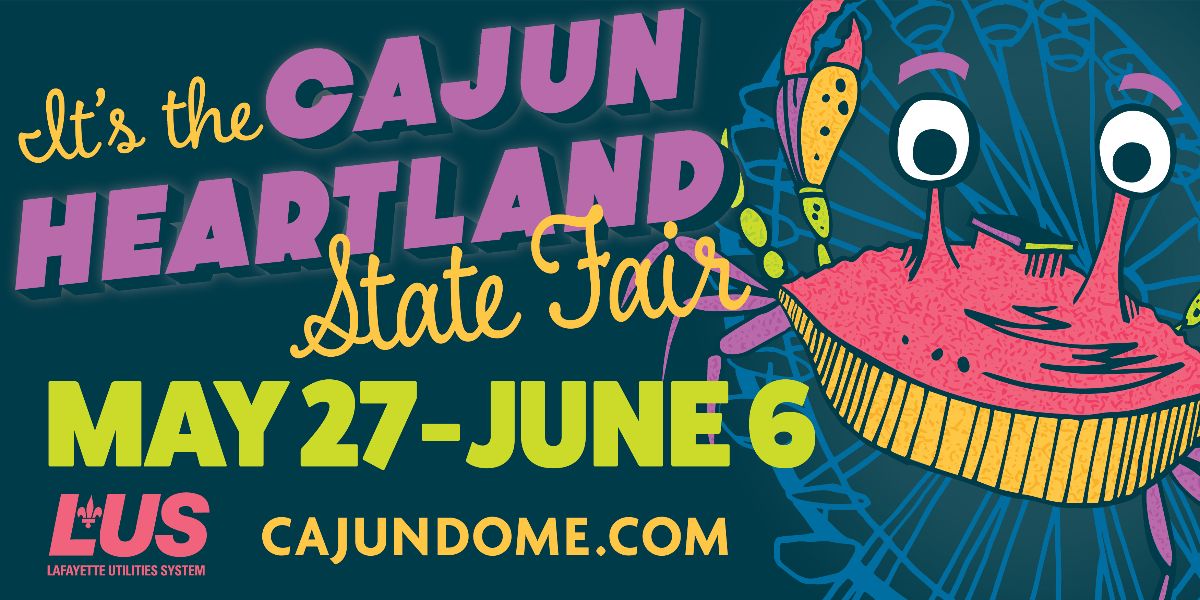 33rd Annual Cajun Heartland State Fair
Presented by LUS
33rd Annual Cajun Heartland State Fair
Presented by LUS
Event Details
CAJUN HEARTLAND STATE FAIR
May 27 - June 6, 2021
The 33rd Annual Cajun Heartland State Fair returns to the CAJUNDOME May 27 - June 6, 2021. The Cajun Heartland State Fair is an eleven day fair produced by an innovative and insightful team of professionals on the CAJUNDOME staff; priding themselves on knowing the right mix of entertainment arranged to provide maximum enjoyment for all ages. The ride specials, food, free attractions and family oriented games make an outstanding summer experience. Truly, there is something for everyone to enjoy at the Cajun Heartland State Fair fairgrounds.
We are excited to welcome our new ride partner, Gold Star Amusements, whose Midway will feature classic super rides and more. Stroll through Lagniappe Lane and visit your favorite free attractions such as the World of Wonders, Texas Tommy's Wild West Revue, Prehistoric Dinosaur Adventures and Crawfish Village featuring daily music entertainment and local food vendors!
Advance Discount Savings-- Half-Price Ride Ticket Sheets ($12.50 for 20 tickets) and $20 Opening Night & Memorial Day Wristbands go on sale MONDAY, MAY 3, at 10 AM, at the CAJUNDOME Box Office. The Box Office is open Monday - Friday 10 AM - 4 PM.
BUY MEMORIAL DAY WRISTBANDS ONLINE

BUY IN BULK & SAVE!
MEGA PACK / FAMILY PACK $85, presented by Townsquare Media
(INCLUDES 4 RIDE WRISTBAND & FAIR ADMISSION VOUCHERS)
Purchase your discounted #MEGApack in advance for only $85 which includes 4 ride wristbands and fair admission vouchers to redeem on any day of the fair! (You Save $27!) Limited quantity available.
Get Social With Us - Join the CAJUNDOME Insiders and follow us on Facebook, Instagram and Twitter to receive promo codes to unlock more CHSF savings!
Our friends at the Hilton Garden Inn, located directly across the street from the Cajun Heartland State Fair, are offering a special room rate to fair goers! Visit the link below to book your stay!
Additional rooms are available at the Doubletree by Hilton for a rate of $99/night. Use the link below or call 337-235-6111 and mention group code CAJ.

Gold Star Amusements Midway Amusement Rides

Crawfish Village
Boiled crawfish sold daily by Breaux Bridge's Crazy About Crawfish catering plus more of your favorite fair food and merchandise vendors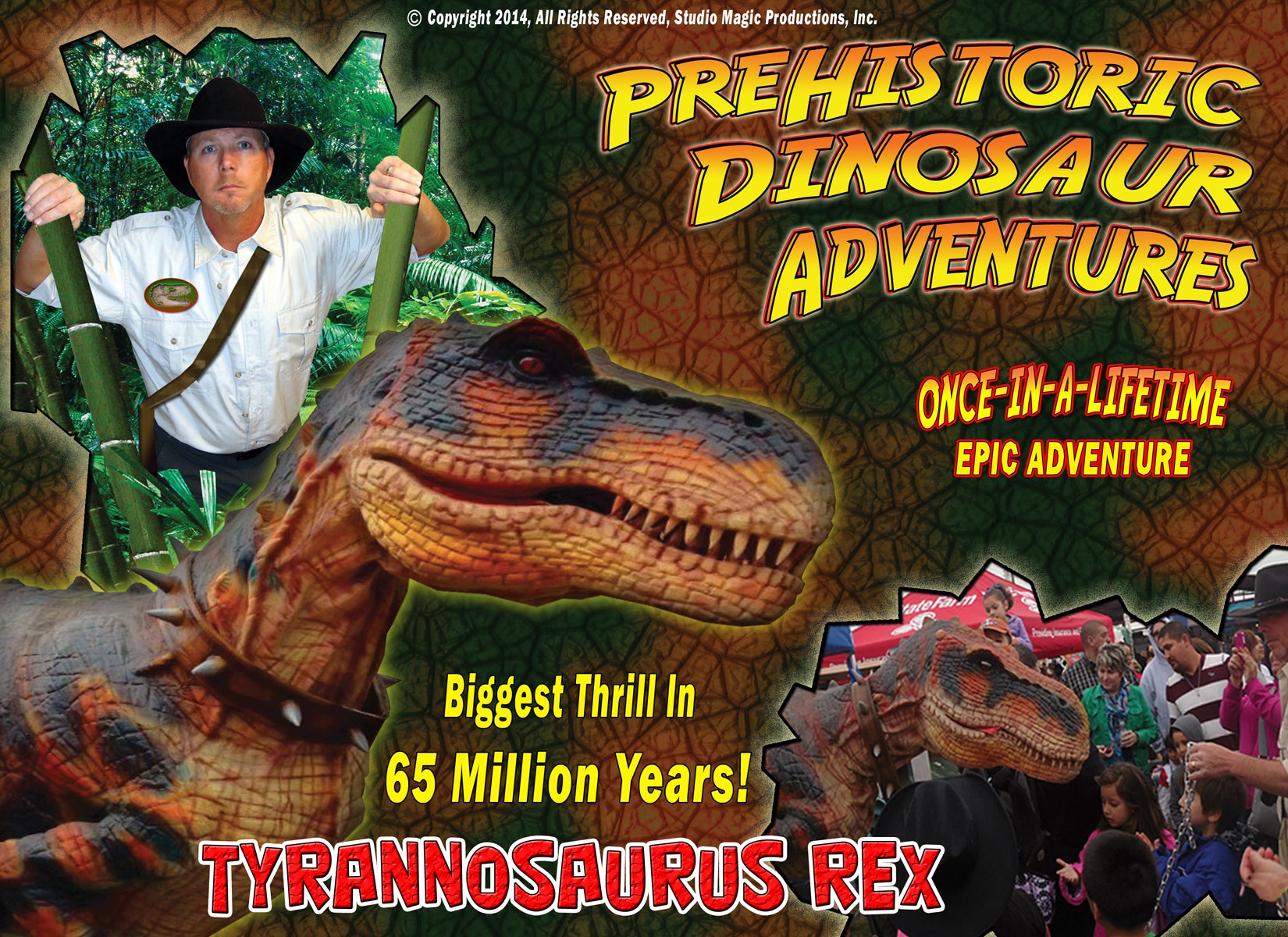 Prehistoric Dinosaur Adventures
Prehistoric Museum
Dino Dig Pit
Dino Kids Challenge Games
Dinosaur Photo Opportunities
Encounters with Jim "The Dino Guy" & Baby Dinosaurs
T-Rex Dinosaur Encounters
SHOWTIMES:Weekdays: 6:45 PM, 8:30 PM, 9:30 PM
Weekends: 12:30 PM, 2 PM, 4:30 PM, 7:15 PM, 8:45 PM
World of Wonders Show
10 amazing & unusual sideshow acts

SHOWTIMES Weekdays: 8 PM & 9:30 PM
Weekends: 6:30 PM, 8 PM, 9:30 PM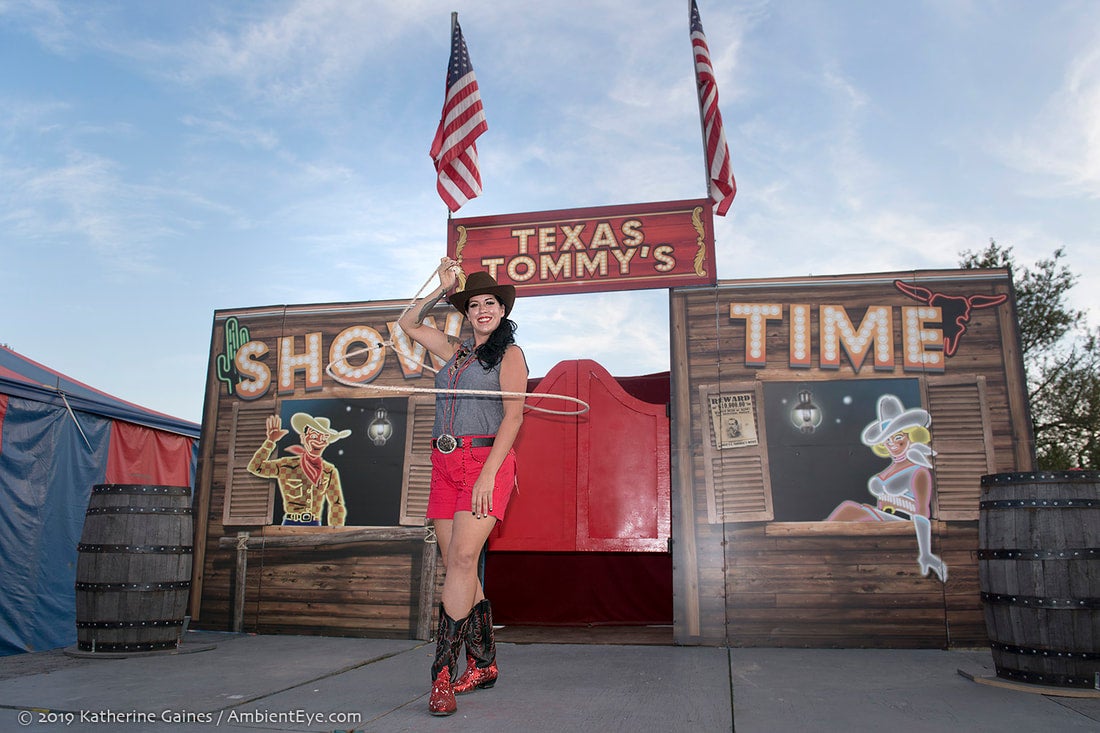 Texas Tommy's Wild West Review
Wild West Comedy & Trick Show
SHOWTIMES

Weekdays: 5:30 PM & 6:45 PM
Weekends: 2:30 PM, 4PM, 5PM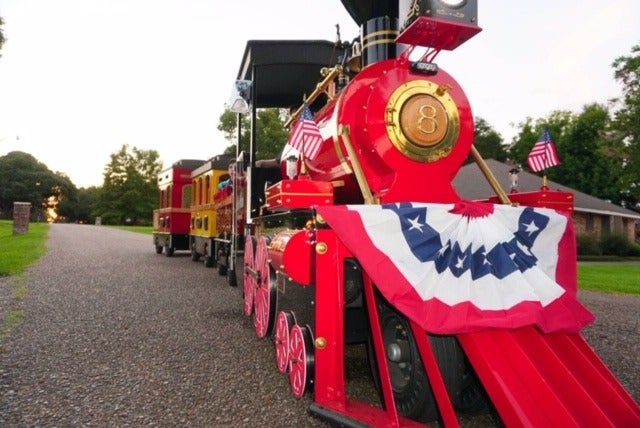 All Aboard Party Headquarters
Trackless Train Rides (Additional Fees Apply)
Daily until 8 PM
Glow Rides Friday and Saturday night 8 PM till

Animal Encounters with Schoolhouse Safari
Schoolhouse Safari is thrilled to be featured at The Cajun Heartland State Fair! We will be there from 5pm-8pm every day (and 3pm-8pm on Saturdays). Our walk-thru encounters and educational demonstrations will be no charge to enter although as this is a volunteer event for Schoolhouse Safari, donations are very strongly suggested. We will have different animals each day including birds, small mammals, reptiles and sometimes even more! Thank you so much for supporting your local small business!

Cajun Market, Saturday, June 5, 2 PM - 8 PM
Presented by the Lafayette Women's Chamber of Commerce, featuring craft & artisan vendors from around the state

Touch a Truck, Sunday, June 6 12 PM - 6 PM
Get an up-close look at your favorite "big trucks" and meet the people that protect, serve and build Acadiana!
Thanks to our participating partners:
LUS | Lafayette Police Department | Acadian Ambulance | Lafayette Fire Department | Waste Connections
Cajun Heartland Music Festival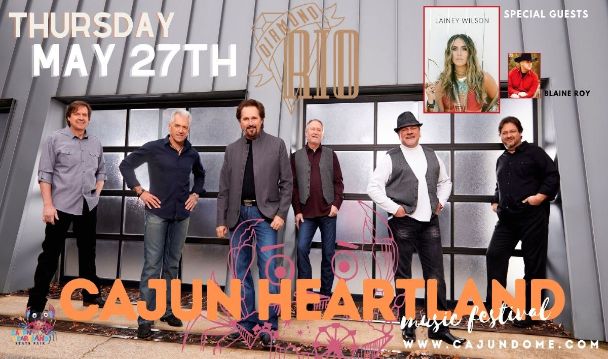 Thursday, May 27: DIAMOND RIO with special guests Lainey Wilson, Blaine Roy0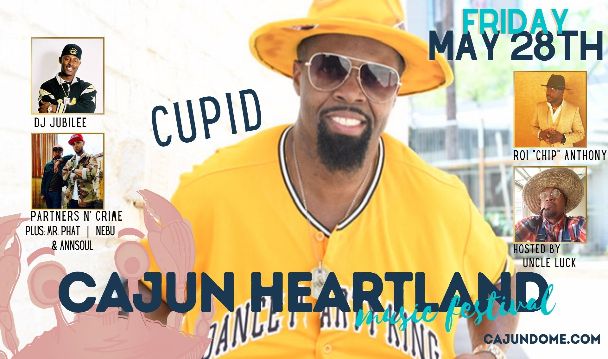 Friday, May 28: CUPID & Friends with special guests Roi Anthony, DJ Jubilee, Partners N Crime, and More!
Saturday, May 29: GRANGER SMITH ft. Earl Dibbles, Jr. with special guests Priscilla Block, Clay Cormier & the Highway Boys
Purchase Granger Smith Tickets
Crawfish Village Stage

Check out the exciting list of performances scheduled for this year's outdoor Crawfish Village Stage at the Cajun Heartland State Fair!
May 27: 5 PM - 7:30PM Hunter DeBlanc | 8:00 PM - 9:30 PM LVVRS
May 28: 5 PM - 6:30PM DJ Pug & DJ Cobyco | 7 PM - 10 PM Full Circle
May 29: 5 PM - 7:30PM Eagle Street | 8:00 PM - 10:30 PM Redrock Down |
May 30: 5 PM - 7:30PM Poisson Rouge | 8:00 PM - 10:30 PM New Natives Brass Band
May 31: 7 PM - 10 PM Mathew Ewing and the All Star Band
June 1: 7 PM - 10 PM SINthetik Messiah
June 2: 7 PM - 10 PM Sydney & the Sams
June 3: 7 PM - 10 PM Shotgun Lillie
June 4: 7 PM - 10 PM Rouge Krewe
June 5: 7 PM - 10 PM DG & the Freetown Sound
June 6: 5 PM - 8 PM The Good Dudes
Table Room Stage
Visit the all new Table Room venue and enjoy music nightly from these talented local performers at the Cajun Heartland State Fair!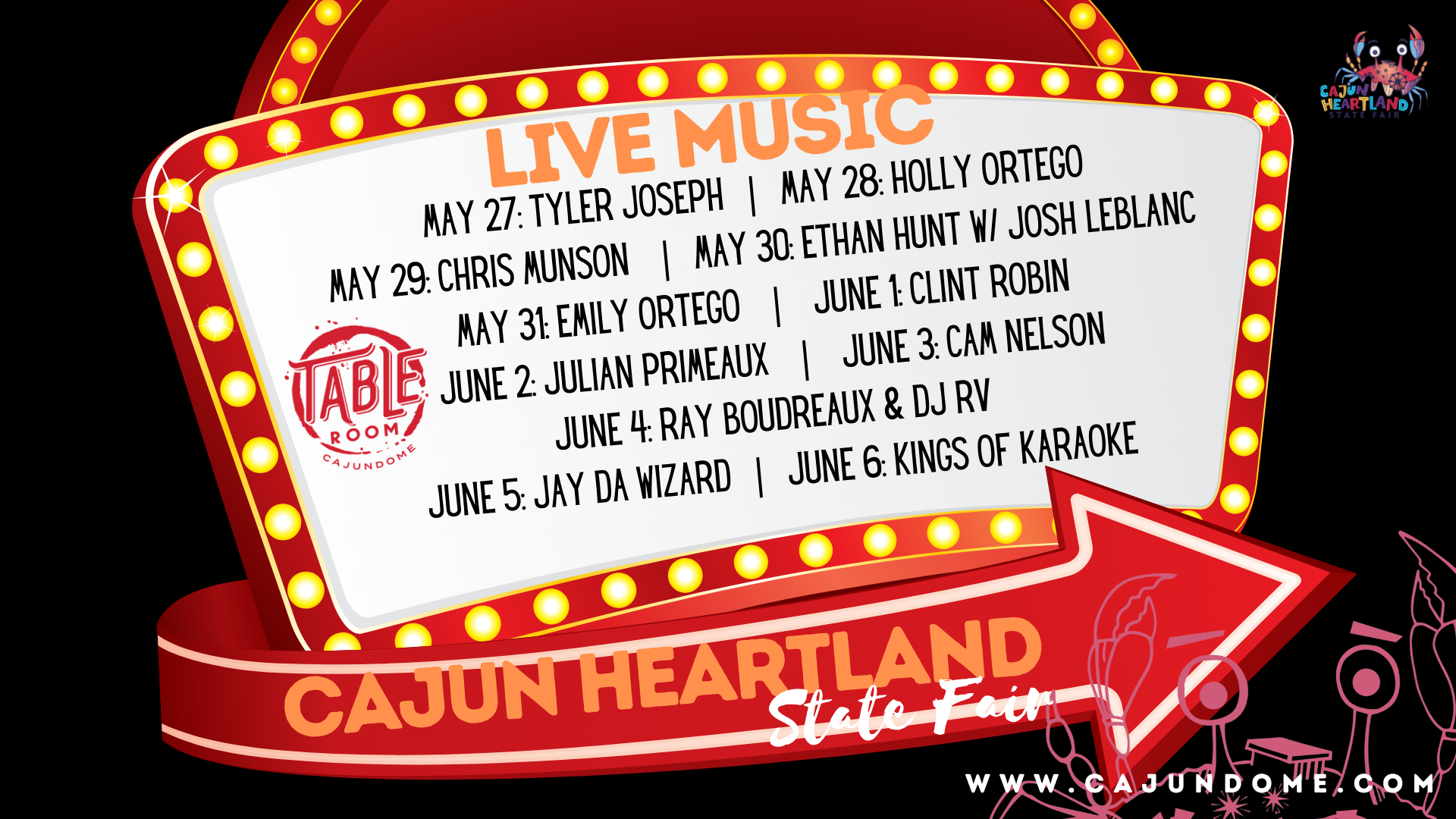 May 27: 7:00 PM - 10:00 PM Tyler Joseph
May 28: 7:00 PM - 10:00 PM Holly Ortego
May 29: 7:00 PM - 10:00 PM Chris Munson
May 30: 7:00 PM - 10:00 PM Ethan Hunt w/ Josh LeBlanc
May 31: 7 PM - 10 PM Emily Ortego
June 1: 7 PM - 10 PM Clint Robin
June 2: 7 PM - 10 PM Julian Primeaux
June 3: 7 PM - 10 PM Cam Nelson
June 4: 7 PM - 10 PM Ray Boudreaux & DJ RV
June 5: 7 PM - 10 PM Jay Da Wizard
June 6: 6 PM - 9 PM: Kings of Karaoke
Safety Rules & Height Requirements
Please be advised that children under 42" may be required to ride some of the rides with a paying adult.
OUR RIDES
For your Safety, all rides at Gold Star Amusements have height requirements.
Follow all posted signage and please listen to the instructions given by the ride operator at all times.
Remain seated and restrained and keep your arms, legs and head inside the ride at all times.
Remove all loose articles, such as sunglasses, cell phones, hats, open-toed shoes and jewelry that may have the potential to fall off during the ride. We are not responsible for lost articles.
NO SELFIE STICKS. To ensure the safety of our guests, the use of photo arms, more commonly known as "Selfie Sticks," is strictly prohibited on all rides and attractions on our Midway. "Selfie Sticks" should be left with a non-rider or secured with other loose articles. Guests that do not comply with this policy may be subject to dismissal without refund.
If you have any questions while visiting our Midway, please visit our onsite Guest Services or Offices.
SIZE WIZE
Save time by measuring your child in advance at our SIZE WIZE measuring charts located near our ticket sales. Once you have the correct measurement, look for the SIZE WIZE signs posted at each ride to ensure your child meets the requirements. This will also help with determining which ticket package you will want to purchase.
Please be advised that children under 42" may be required to ride some of the rides with a paying adult.
We look forward to seeing you on our Midway!
Clear Bag Policy, Social Distancing & Face Masks
CLEAR BAG POLICY: In an effort to limit cross-contamination, the CAJUNDOME will be enforcing a strict clear bag policy at the Cajun Heartland State Fair. A one quart or smaller clear plastic storage bag or clear clutch/purse sized 6.5" x 4.5" x 1" or less permitted. Non-clear diaper bags with age appropriate children or non-clear medical bags will be permitted. All bags subject to search. An empty reusable water bottle may also be brought in for use at water fountains. Lawn Chairs are permitted but subject to search.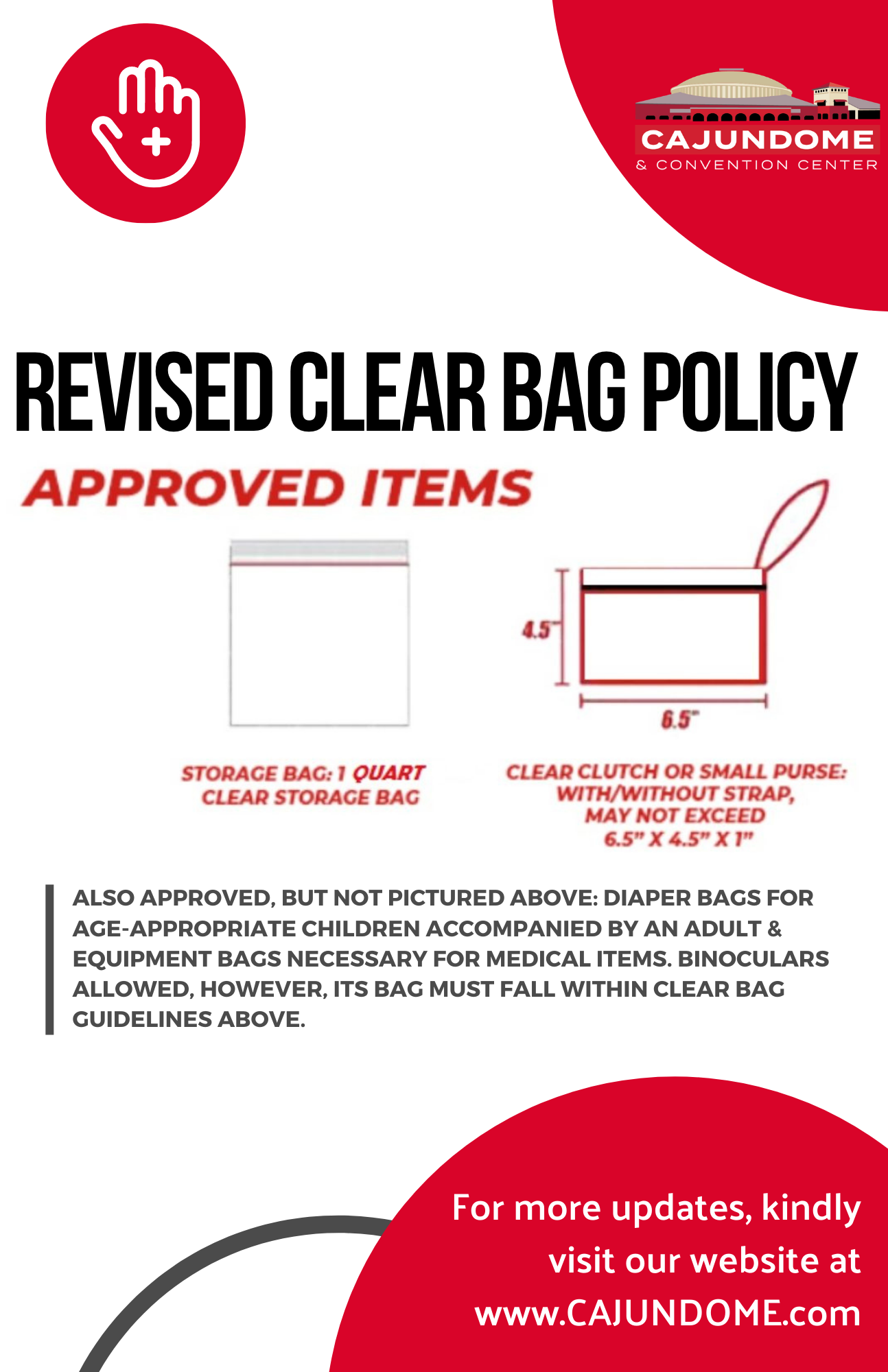 FACE COVERINGS: Face coverings are HIGHLY RECOMMENDED for non-vaccinated individuals.
SOCIAL DISTANCING: All participants and guests are reminded to observe social distancing guidelines of 6 feet when entering the fairgrounds, moving about the venue, or waiting to use restroom or concession facilities.